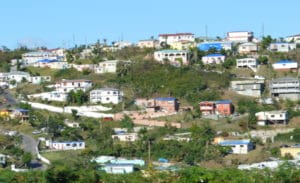 A small but growing number of St. Thomas residents have filed suit against MAPFRE for slow action and low settlement offers. Most recently, claimant say MAPFRE's delays are intentional and potential.
Meanwhile, a class action suit by St. Croix homeowners against Scotia Bank over alleged failure to purchase force-placed policies continues slowly, gathering plaintiffs.
MAPFRE is the leading insurance company in Spain, the largest non-life insurance company in Latin America and a major insurer in the U.S. Virgin Islands and Puerto Rico. St. Thomas attorney Michael Sheesley filed the first federal suit on March 1, alleging MAPFRE hired underpaid and under-trained adjusters who did what he called "drive-by inspections" that took less than 15 minutes. (See: "Slow Insurance Settlements Leading to Lawsuits" in Related Links, below.)
According to his complaint, MAPFRE's adjusters ultimately offered to pay Sheesley $10,622.50, far less than 2 percent of the $738,676 estimate Sheesley got from a contractor.
Sheesley is claiming the insurer's delays, bad adjustments and low offers are all intentional.
"They are doing this in bad faith," he said in March.
"MAPFRE is using people, using that they are in a terrible situation to pay them pennies on what they are actually owed," Sheesley alleged.
Since then, five more homeowners have filed suit, for six suits in all. None have gone to trial. One has been settled. The allegations in each claim are extremely similar. They all impact policies on St. Thomas. They all allege long delays in getting an adjustment done; inaccurate assessments of damage and long delays before extremely low settlement offers.
Three of the suits allege MAPFRE may be in violation of the federal Racketeer Influenced and Corrupt Organizations Act. Amber Stein filed the most recent suit Aug. 30.
"While MAPFRE is certainly inept, its refusal to hire enough qualified adjustors is also… by design and part of a pattern and practice intended to avoid" its legal obligations and "part of a pattern and practice of bad faith and deceit," Stein's attorneys wrote in the complaint. Like Sheesley, Stein alleges MAPFRE offered pennies on the dollar. Stein had a contractor's estimate for more than $140,000 for repairs but MAPFRE offered $10,718.
To back up the allegation that these delays are part of a larger strategy, Stein and other recent suits point to the fact that Puerto Rico fined MAPFRE for similar delays in paying claims for hurricane damage there. In February, the Puerto Rico Insurance Commissioner's Office fined seven companies a total of $2.4 million for delays that violated Puerto Rico law. MAPFRE PRAICO, the defendant in all of the V.I. cases, was fined $714,000 – the largest single fine. MAPFRE Pan American Insurance Company was separately fined $359,100.
The cases are moving slowly. None have trial dates yet. Sheesley, who filed first, has a pre-trial conference scheduled for July of 2019.
MAPFRE has previously declined to give a statement on the record to the V.I. Source.
Meanwhile, on St. Croix a number of residents who were underinsured at the time of Hurricanes Irma and Maria had what is known as "force-placed insurance, or insurance put in place by a bank or lender when the owner has not insured a property themselves.
In March, eight St. Croix residents were part of a class action lawsuit filed Feb. 14 in the District Court of the Virgin Islands over what they allege is the failure of Bank of Nova Scotia to purchase insurance, despite billing mortgage borrowers for the insurance. There are now 11 plaintiffs.
In the amended complaint, the plaintiffs allege "Scotiabank allowed its force-placed insurance policy to lapse in August 2017 without informing its borrowers, who continued to pay premiums for nonexistent coverage. When the borrowers made claims under the force- placed policy after Hurricanes Irma and Maria damaged their homes, Scotiabank engaged in a pattern of deception and delay, falsely telling borrowers it was processing their claims even though Scotiabank knew there was no coverage."
Bank of Nova Scotia has filed a motion to dismiss the case and the plaintiffs have filed a reply opposing that motion. Since then, both sides have agreed to an extension of time to file the next motion. No trial date is scheduled yet.