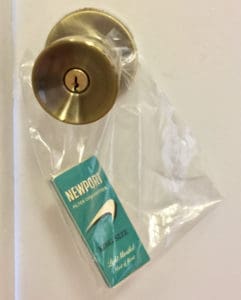 Lawyers representing two V.I. families who lost loved ones to smoking won a $113 million verdict from a major U.S. tobacco company. The verdict came as a result of a rare double jury trial lasting five weeks.
The jury decision was hailed by a Boston-based advocacy group that has opposed the tobacco industry. A lawyer representing a subsidiary of the R.J. Reynolds Tobacco Co. promised to appeal.
Jurors ruled in favor of the survivors of Patrice Brown and Lucien England. Both died of cancer after years of smoking. Both began smoking as children after they picked up sample packs of Newport cigarettes being used for sales promotion.
Civil litigants Gordon Rhea and Michael Weisman successfully argued that children are more susceptible to nicotine addiction than adults and that Brown and England developed nicotine addiction at a time when the tobacco industry was marketing cigarettes as a safe product. Documents gathered by the litigation team shows England began smoking at the age of 10. Brown was 13 when she smoked her first Newport.
Newport was a brand owned by Lorillard Tobacco Co. When RJ Reynolds acquired Lorillard in 2015, it inherited the product liability, according to an article appearing in the Winston-Salem Journal.
But in order to avoid the perception that evidence in one victim's case would taint the jury's thinking towards the other, Superior Court Presiding Judge Michael Dunston chose separate six-member panels to hear each case. Where witnesses or evidence applied to both cases, the juries sat in the courtroom together. Where the evidence or witness spoke to an individual decedent, the juries sat in court according to their assigned case.
In the end, jurors awarded Brown's family $70 million in compensatory damages and $12.3 million in punitive damages.
England's family won $1 million in compensatory damages and $30 million in punitive damages.
Compensatory damages are awarded for the actual harm resulting from product liability. Punitive damages are awarded as punishment to the manufacturer and as a deterrence.
St. Croix attorney Russell Pate said tobacco companies always appeal individual smoking cases. Pate believes the award may survive those appeals however.
"What they are likely to do is file a lengthy series of post trial motions at the trial level and if they can't get what they want from the local judge, then they'll appeal to the local supreme court," Pate said. "They've paid judgements before but they fight all the way to the end."
The legal fight to come was indicated in a statement issued by Ben Shively, a corporate official at RAI Services, a subsidiary of R.J. Reynolds.
"We are disappointed in the verdict because they do not reflect the evidence presented at trial, and we will appeal both cases," Shively said.
The tenacity of tobacco industry when defending itself in court and its financial ability to stretch out the appeals process adds significance to the local verdict. RJ Reynolds has 60 verdicts stemming from smoking related deaths on appeal, Pate said.
The Virgin Islands case would make 61.
"When you have a product that's killed 20 million people since 1964, they'd go out of business if they had to settle," he said.
In preparing for trial, Pate said he reached out to 200 U.S. law firms, asking if they would provide financial backing.
"They said no," he said.
But the Public Health Advocacy Institute of Boston said yes. In addition to financial support, PHAI also sent Weisman, with experience in tobacco cases, into the courtroom.
In a statement issued after last week's verdict, institute officials praised the outcome.
"The cases were tried simultaneously, with both six-person juries together hearing evidence common to both cases, and each separate jury hearing issues such as medical that was specific to each case. These are the first tobacco cases to be brought in the U.S. Virgin Islands, the first tobacco cases tried together in this way, and among the largest verdicts achieved to date in individual tobacco litigation," the institute's statement said.
Pate served as administrator for the twin lawsuits. He's been working on the case since 2010.
Not since the corruption trial of former Schneider Regional Medical Center officials Rodney Miller, Peter Najawicz and Amos Carty has the local court system handled a trial lasting several weeks in duration. Dunston also presided over that case, which ended in a hung jury in 2011.
Editor's Note: This story initially misinterpreted Russell Pate's view of the likely outcome of the appeals process. Pate strongly believes the the awards have a high probability of being affirmed on appeal.