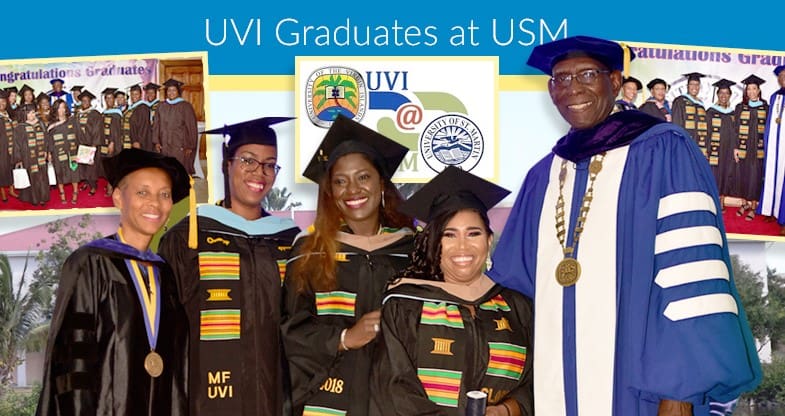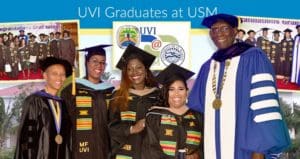 Thirty-three students graduated from the University of the Virgin Islands (UVI) at the University of St. Martin (USM) on Aug. 18, at the Belair Community Center on St. Maarten (St. Martin).
The UVI at USM class is the first cohort of students to have completed respective degrees under a Memorandum of Understanding (MOU) with USM. Through the MOU, students from St. Maarten are able to study at UVI without having to leave the island.
The successful students completed undergraduate and graduate degrees in education and business administration.
David Hall Ph.D., UVI president, thanked the students for their tenacity and resilience, and challenged the students to use their degrees to make a difference in their community and world.
"The entire University of the Virgin Islands community is proud of the tremendous tenacity and resilience of all of the students of the University of St. Martin for your achievements," said Dr. Hall. "I am also especially proud of those students who are receiving their degrees from the University of the Virgin Islands. You are pioneers and we hope many will follow in your footsteps."
Antonio Carmona– Bàez Ph.D., president of USM, recognized the students for their ability to overcome climatic, economic and institutional adversities.
"I congratulate each of you for your individual triumphs, while acknowledging that your success represents a victory for all of us," said Carmona– Bàez. "I invite you now to never stop dreaming, not only in order to change your personal circumstances but also to keep striving for the collective good of this beautiful island-nation."