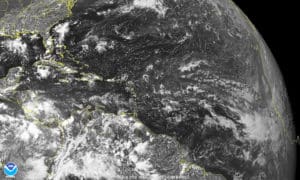 While meteorologists keep an eye on a pair of tropical waves that have left the coast of Africa, the Atlantic basin is approaching an anomaly. At the risk of jinxing things, unless something happens that forecasters don't expect to happen the month of August will end without a single hurricane forming in the Atlantic.
It won't be the first time that's happened, but it's still relatively rare. According to data from the National Hurricane Center and the National Weather Service, if Friday ends and neither of the two waves starting to cross the Atlantic have developed to the point of having 74 mph winds, it will be the ninth time since 1966 – when weather satellites first began peering down on the ocean to detect storm development – that no hurricanes have formed during the month of August. That's about 17 percent of the time, or roughly once every five and a half years.
Two storm systems reached hurricane levels in July – Beryl and Chris – before spinning away north into the Atlantic, and two systems in August reached the level of tropical storms – Debby and Ernesto – fizzled out far to the north.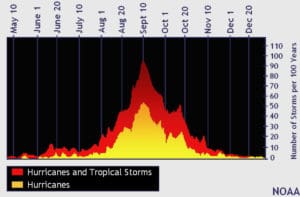 Even if we make it through August without a hurricane forming, that's no cause for residents of the Caribbean to breathe easily. According to Philip J. Klotzbach of the Colorado State University Tropical Meteorology Project, 60 percent of all Atlantic basin hurricanes form in the period between Aug. 20 and Oct. 10.
And either or both of the two waves now leaving the coast of Africa could be the next.
As of Monday morning, the first of the two waves was over the easternmost Atlantic, just off the west coast of Africa. Moisture levels, showers and thundershowers associated with this wave have increased, forecasters said. The second tropical wave is now over central Africa and is exhibiting moderate to strong thunderstorm activity. This wave should emerge off the African coast by Thursday.
Forecast models agree that some tropical development will occur with either of these waves. One model forecasts the first wave to develop by this weekend, and take a turn to the north, well east of the Lesser Antilles by late next week. The same model forecasts the two waves to develop into storm systems over the eastern Atlantic next week.
Another forecast model suggests no development from the first wave but estimates that the second wave will develop over the eastern Atlantic region by this weekend. The model also forecasts that there could be two named tropical weather systems next week, one near 50 degrees west, and the other near the Cape Verde Islands.
The most recent year that August passed without a hurricane developing in the Atlantic was 2013. That was the first season since 1994 with no major hurricanes (category 3 or higher.)
The other seven years were 2002, 2001, 1997, 1988, 1984, 1982 and 1967.