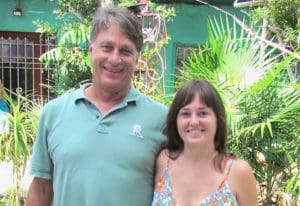 Like so many other individuals and businesses on St. Thomas, Tillett Gardens took some big hits last September. Today, it takes a sharp eye to find signs of devastation in the iconic artists' colony in Tutu Valley.
Eric Tillett, scion of founders Jim and Rhoda Tillett, rode out the storms in his and wife Abby's 200-year-old wooden home and barely missed a beat when it was time to clean up, rebuild and plan for the future. With 20 commercial tenants and 40 beds to fill in the guest house, there was little time for anything but a positive attitude and endless energy.
Just a week after Hurricane Maria struck, generators were humming, the shops were open, and normalcy was on the horizon. Retail tenants were displaying optimism drawn from Tillett's leadership, guests were thankful for safe, dry living quarters, and everyone benefitted from the synergy that sets "The Garden" apart.
Eric and Abby Tillett tell the story of watching the old wooden farmhouse walls and superstructure "breathe" with every change in wind direction and barometric pressure.
"She bent with the weather but never broke," Eric said. The building, which was the living quarters of the original farm workers, has withstood tropical storms since the early 1800s.
"My father Jim was a practical fellow, choosing the farm for its source of fresh water and protection from the worst storms."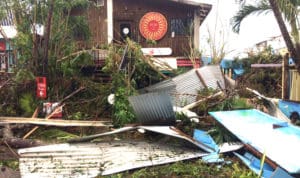 The Tillets bought the place in 1959, complete with cow barns, a grain silo and other structures needed on a working dairy farm. Over the years they added but never tore down any of these original structures, each one speaking to its original purpose and place in time. Jim saw the value of an art colony, not only for his much-admired silk screen prints but as a showcase for a panoply of Caribbean artists' work and as a gathering place for creative thinkers and art lovers.
"It was joyous to grow up in the garden," Eric said. "But personal growth brought me to the states where I developed my career. As my mother advanced in age and with failing health I returned to St. Thomas to help the family business. Through many ups and downs, the garden's importance to the community never lessened. Today, as my dad once did, we continue to improve the property while keeping its historic relevance."
When the storms of 2017 hit, Eric's efforts were obvious. The retail shops were fully occupied, as was the guest house.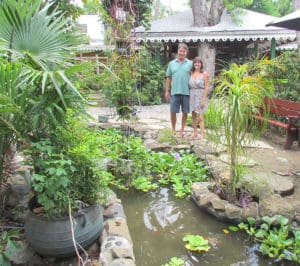 "There is a synergy here in the garden," Eric said. "Both the retailers and the guests appreciate its long list of amenities. Imagine, three good restaurants, an outdoor bar, art shops, music, and bakeries all right outside your door. We had to get it all back, ASAP. Being self-insured, we were able to get things moving immediately. No waiting/negotiating with adjusters. The tenants and management got together and went to work. We had things squared away in a bit more than a week, for about a fifth of the cost and with better quality than the insurance companies would offer."
Abby said her husband's energy was contagious.
"Eric gave the tenants the confidence this would all get done," she said. "There he was with just a couple of helpers, fixing roofs and fueling generators."
The major restaurant, Off The Grid, never returned after the storm, but it was quickly replaced with Rockstone Bar & Grill, offering a full brunch menu as well as a selection of standard items and daily specials . They are also responsible for live music offerings, soca, jazz and a little country.
All 20 retail spots are again taken, and Tillett said he is pleased with the response from all involved.
"I enjoy the fact that the garden offers so much to the visitor who enjoys the interaction with the locals. Our guests are more engaged with the community than they'd be at a big hotel. It is how I wish them to see and remember our island. We are not anticipating any big changes to our persona. I like it the way it is."