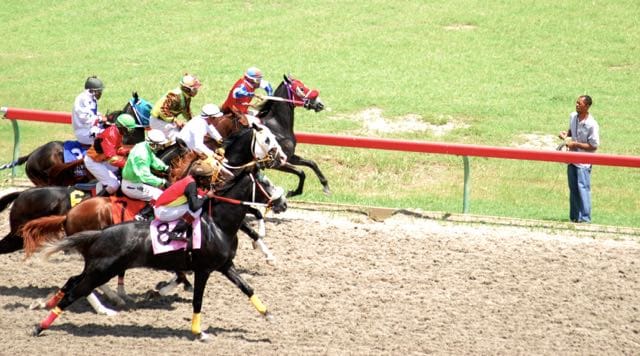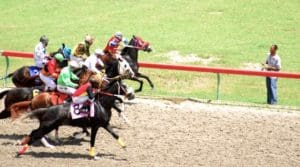 The sight of a horse, thin and sickly, at the side of the road with its ribs showing through its skin is not uncommon in the Virgin Islands. Two of Gov. Kenneth Mapp's nominees to the V.I. Horse Racing Committee want to see something done about the problem.
Nominee Dr. Laura Palminteri told the Senate Committee on Rules and Judiciary Thursday retired race horses are sometimes set free. Race horses cannot survive in the wild, she said, and owners are breaking the law when they set them free.
Palminteri and nominee Sheldon Turnbull, on questioning from Sen. Nereida Rivera-O'Reilly, agreed a record of the chain of custody should be maintained for horses in the Virgin Islands. This would include a registry of owners of a retired horse and also a way to record who owns an imported horse.
Palminteri said the Department of Agriculture presently picks up emaciated horses or ones involved in traffic accidents. The department sometimes tracks down the owner but has never fined an owner.
"That is a problem, no enforcement," said Rivera-O'Reilly.
Sen. Positive Nelson questioned Palminteri about "what really happens to the horses when they are retired." She had mentioned in her testimony she has worked with non-profit agencies in getting retired horses homes off-island. She also said there is a farm on St. Thomas that accepts retired horses but that farm is only fit to handle 15 or 20 horses and now has around 30. She told Nelson some horses had to be put down.
"I hope for a better plan for horses retiring," she said.
The seven senators present at the hearing voted to forward Palminteri's recommendation favorably to the full Senate. However, Sen. Jean Forde was among those who questioned whether her serving on the commission would present a conflict of interest because she is also the veterinarian who services both race tracks.
Palminteri said she is the only veterinarian in the territory who specialized in equine issues. She said she would gladly give up the position at the race track if there was another veterinarian who could take it.
In giving her qualifications for membership on the commission, she said, "upon relocating to the Virgin Islands in 1998, I began working at the Clinton Phipps Racetrack in St. Thomas. Soon, I also started to treat horses at Ellis Thomas Downs in Tortola and Randall 'Doc' James Racetrack in St. Croix. Over the past 20 years, I have been the primary veterinarian for all of these racetracks as well as all the other horses in the U.S. and British Virgin Islands."
The Senators did not vote unanimously to move Turnbull's recommendation forward. Sen. Janelle Sarauw, who expressed concern that Turnbull had not properly prepared for the hearing, cast the one dissenting vote. Voting in favor were Sens. Forde, Nelson, Novelle Francis, Janette Millin Young, Myron Jackson, Sammuel Sanes, and Rivera O'Reilly.
Turnbull stated in his testimony, "I do not pretend or purport to have any particular expertise in the sport of horse racing, the equine field or specific equine issues. I have participated in the sport of horse racing as a fan and a broadcaster for the past 20 years. I have attended physically or listened to 95 percent of the horse races ran in the Virgin Islands over that time period."
He listed his goals as a member of the Horse Racing Commission as a balanced racing calendar between the territory's two race tracks, unified rules and operations for both tracks and more coordination with the race track on Tortola. He said he would also like to see less expensive travel for horse owners among the islands and for races to be simulcast.