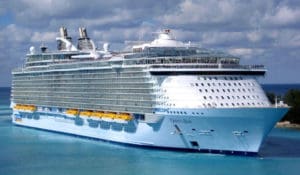 The West Indian Company, Ltd., is waiting for the necessary local and federal permits to begin dredging along its Havensight dock, the only work remaining before the St. Thomas port can safely berth Oasis-class ships.
"Work on this dredging hopefully can commence before the peak of the [2019] cruise season, when there are less ships traversing our waters to interrupt such operation," said Wico Executive Director Clifford Graham.
Graham laid out WICO's plans at a hearing of the Senate Finance Committee, where he was presenting the agency's budget.
In June, WICO, which is responsible for dredging along the dock, and VIPA, responsible for dredging the channel and turn basin, have submitted a permit application to the V.I. Department of Planning and Natural Resources' Coastal Zone Management division and the Army Corps of Engineers, Graham said. As soon as the permit is granted, WICO will choose a contractor to remove a total of approximately 290,000 cubic feet of material — 40,000 from WICO's dock area and 250,000 from the channel and turn basin.
WICO, which is wholly owned by the V.I. Public Finance Authority, has been anticipating welcoming mega ships to its port for a few years now. Almost exactly one year ago, Graham announced at its board meeting that it had completed infrastructure work on its inner berth, allowing the facility to handle three super mega ships simultaneously.
Graham describes the expansion of berthing capacity on St. Thomas as a "critical" and ongoing goal. WICO can berth three average-sized cruise ships between 1,000 and 1,100 feet in length. But if one of those ships measure more than that, one ship would have to cancel its call as the port's overall dock and overhang is 3,300 feet.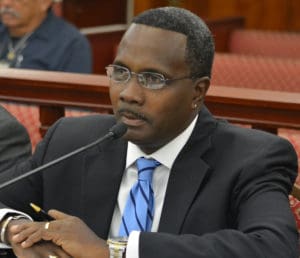 "Unfortunately, the lengths of 1,100 feet and larger are the wave of the new ships of the future," he stressed. "Thus, if we don't grow our berthing capacity responsibly within this district, the passenger count for the future could deteriorate," he said.
Graham also said WICO is working with VIPA in finalizing design proposals to grow the island's berthing capacity in general. They are exploring pros and cons, he said, and will secure public input before advancing a proposal.
All the work done to get WICO ready for larger and larger ships contribute to its $2.18 million annual debt service, which comprises more than a quarter of WICO's annual expenditures. The company's other larger expenses include personnel, which reflects some 38 percent of its expenses, and an 11-percent insurance cost.
In contrast, WICO's main source of income is the regionally uniform per-passenger port fee of $13.50, only $6.80 of which the company keeps; the rest goes to VIPA for maintenance of the channel and turning basin. In addition, WICO's passenger count has gone down drastically since the Austin "Babe" Monsanto Marine Terminal, owned by VIPA, opened and pulled business from WICO. For comparison, WICO's 1.68-million passenger count in 2005 has since dropped to 1.23 million in 2016.
Graham also shared WICO's plans to develop seven acres of WICO land into an area that guests and locals can frequent in the evenings after the cruise ships leave port.
As for the overdue Payment in Lieu of Taxes to the VI government worth $700,000 annually, Graham said WICO recognizes that the PILOT is law and will make efforts moving forward to pay its annual dues, as well as work with Property and Procurement on the conversion of Estate Catherineberg that could take care of the past due PILOT amounting to $7.4 million.
Department of Agriculture
Agriculture Commissioner Carlos Robles also presented his agency's fiscal year 2019 budget, which amounts to $4 million from the general fund, a reduction of 12.5 percent compared with last year's budget. Some 85 percent of that amount will go toward personnel and fringe benefits, including 11 critical vacant positions, and the rest toward operating expenses.
In addition, Agriculture expects a $500,000 out of the miscellaneous section of the general fund, some $339,262 in federal funds and a $75,000 USDA Natural Association of Conservation District Grant to hire two conservation consultants. The Department draws money from the Agriculture Revolving Fund, which generates income from the sale of seedlings, lease of land, and land preparation services.
This year, Agriculture is incorporating $350,000 in funding toward the territory's humane societies and animal shelters – $150,000 each for St. Thomas Humane Society and St. Croix Animal Welfare Center, and $50,000 for the St. John Animal Care Center. The amounts owed to the shelters, however, exceed the budget: Humane Society of St. Thomas and St. Croix Animal Welfare are each awaiting $170,000 in unpaid services from the government, while St. John Animal Care is is waiting for $68,000.
According to Robles, the three animal shelters have no contracts with the government for 2018.
Robles also detailed massive hurricane-related damage sustained by the department, including the widespread destruction of administrative offices and greenhouses, and on St. Croix, some 95 percent of vendor booths used during agriculture fairs. The solar equipment at Bordeaux Farmers Market also was wiped out.
In spite of these challenges, Robles highlighted some of the department's accomplishments, including the installation of free Wi-Fi at farmers' markets, engagement of the U.S. Agriculture Department to tackle local farmers' deer problem, the reactivation of their Harvest of the Month program and working with the Department of Education to deliver locally-grown produce to the territory's public schools.