The St. Croix Rocketry Association continues to outperform itself in annual competitions, and this year brought home a gold medal for building a five-foot rocket that blasted more than 1,500 feet in the air.
The teams of nine high school students and five adult chaperones just returned from the National Association of Rocketry contest in Pueblo, Colorado. According to Coach Steve Bullock, most of the 300 competitors were adults, with only about 20 children in addition to the St. Croix rocketeers. Bullock's team ranged in ages from 11 to 16, along with Bullock and his wife, Subhasanie. Their daughter, Stephanie Bullock, a third-year student at the University of the Virgin Islands, joined the group for a few days – taking a break from her 10-week internship with NASA.
The participants competed every day and attended workshops and seminars. At the end of the week, the St. Croix team accumulated two gold medals, a silver and two bronze medals as well as several ribbons.
Steve and Subhasanie brought home the gold for their five and a half foot rocket that soared 319 meters into the air on the second try. They were competing against 40 professional launchers from across the country, Bullock said, and all of the first launches fell short. Most improved with the second launch, but the Bullock missile climbed almost 600 feet higher than on the first try. The rocket landed a half-mile from the launch site and had to be retrieved from desert countryside littered with cactus, rocks and rattlesnakes to be considered for a medal.
"You couldn't have wanted better," Bullock said. " It was a nice feeling beating out these professionals."
The other St. Croix winners were Destinee Emmanuel, Stephanie Bullock and Shimeeka Stanley.
During the next year, the Rocketry Association members will work to compete again at the National Association of Rocketry meet in Indiana and the annual Team America Rocketry Challenge in Virginia. The St. Croix group has competed for 10 years in the Rocketry Challenge and placed in the finals eight times.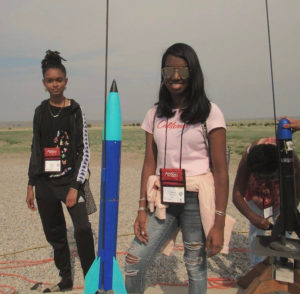 "Now we know what to expect. We'll work hard and build rockets. We think our chances are exceptionally high," Bullock said.
The St. Croix Rocketry Association is a non-profit organization and Bullock said they are always seeking new members. Sixth-grade students and older from any St. Croix school are eligible to apply for membership on the website. Grades must be a "B" or better with 85 or higher in math, science and English.
The organization is supported by fundraisers, donations and has been sponsored by several corporations receiving V.I economic development tax benefits.