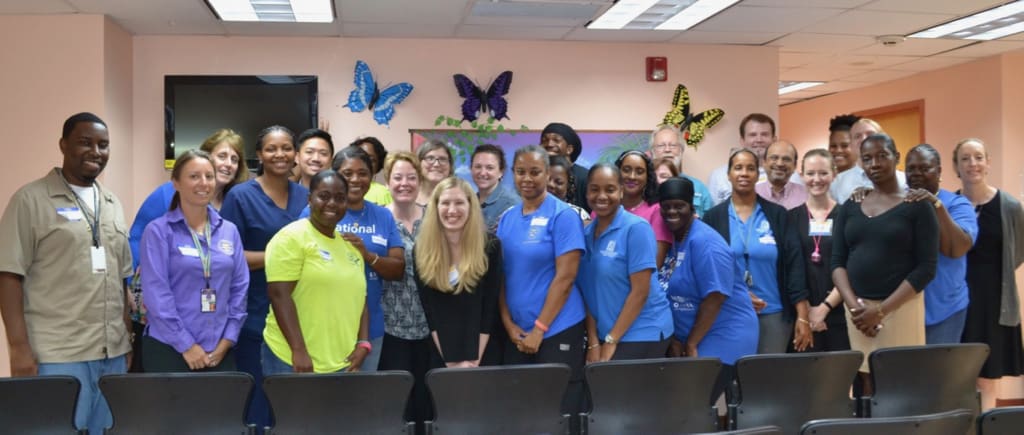 Follow-up studies on Virgin Islands women who contracted Zika while pregnant conclude that 28 of them developed one or more of the following problems: miscarriage, intrauterine growth restriction, neonatal death, small birth weight and microcephaly.
"It's unknown whether all of those outcomes are because of Zika," said territorial epidemiologist Esther Ellis. There are multiple factors that can cause most of those problems.
But the correlation with Zika makes it the prime suspect, and the local numbers jive with a Vital Signs report released last week by the national Centers for Disease Control that said one in seven babies born in various U.S. territories to women effected by Zika during pregnancy exhibit one or more condition associated with the virus.
"Careful monitoring and evaluation of these children is essential to ensure early detection of possible disabilities and referral to early intervention services," the CDC said in a written statement.
"We know that Zika virus infection during pregnancy can cause serious health problems in babies, such as birth defects and vision problems, including conditions not always evident at birth," said CDC Director Dr. Robert Redfield "We are still learning about the full range of long-term health problems these babies could face. We thank clinicians for their continued commitment to conduct all necessary tests and evaluations to ensure appropriate care."
In March, a team of health care providers from the mainland traveled to the territory to offer services to women with children exhibiting problems that could be Zika-related. Continuing support is offered through the Maternity and Child Health division of the V.I. Health Department. Residents can contact the St. Thomas office at 340-777-8804 and the St. Croix office at 340-514-6839.
While the greatest concern about Zika involves pregnant women, the virus can cause other symptoms, including rash, headache, joint pain, fever and conjunctivitis, or red eyes. In rare cases, it has been associated with Guillain-Barre Syndrome, a debilitating condition that attacks the nervous system and causes paralysis. There have been no GBS cases identified in the territory.
Little known until recent years, the the Zika virus infection first drew international attention with an outbreak in Brazil. The first reported case in the Virgin Islands came in January 2016 and by the end of that year, the virus had reached its peak, although many cases were still reported in 2017.
"We've been doing very well this year," Ellis said. "We haven't seen a case since January."
In fact, there were two cases that month but none since then.
The virus also is not showing up in its common vector, the mosquito, she said. The Health Department regularly monitors the mosquito population, catching and testing insects for the presence of Zika, dengue and chikungunya.
It can be transmitted through sexual contact or by a mosquito that bites someone infected with Zika and then bites another person. Health does not attempt to keep statistics on the method of transmittal, as it would be virtually impossible to do so in an area so prone to mosquitos year-round.
Since it first appeared in the territory until this week, there have been 2,272 reported cases of Zika. Those are cases identified by health care providers as probable. There have been 1,032 cases confirmed through laboratory testing. Of the total 2,272 reported cases, 1,297 were on St. Thomas, 822 on St. Croix and 153on St. John.
But the total number of people infected is almost certainly many times greater.
About 80 percent of people who contract the virus have either very slight symptoms or none at all. Because those people are not likely to seek medical attention, "there are many cases that occurred that were missed," Ellis said.
The good news about the numbers lies in the fact that a person who contracts Zika develops an immunity to it. You can't get it a second time. And so the virus becomes a victim of its own success. With few humans left to act as hosts, it dies off or at least it dies down.
Health officials expect it to re-emerge after a few years, as people move into the territory who were not infected and are not immune. The same thing happens with chikungunya.
"We anticipate it'll be a similar cycle," Ellis said. That is, both diseases are expected to appear in the area every four to five years.
And that's one reason that Ellis and Health spokeswoman Jahnesta Ritter stressed that people need to be diligent in mosquito control. Wear protective clothing and/or insect repellant and keep your surroundings clear of breeding sites such as old tires, water containers and trash.