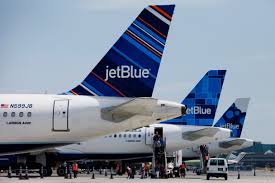 New York-based airline JetBlue announced Monday it will relaunch its popular Boston to St. Thomas route this winter. The airline also said it will be a sponsor of Sunday's Chili Cook-Off.
Daily seasonal non-stop service from Boston's Logan International Airport to Cyril E. King Airport in St. Thomas will resume Feb. 14. In its news release the airline added that seasonal service from Boston to St. Maarten's Princess Juliana International Airport will operate twice weekly starting Feb. 16.
"We are very excited to resume service on these popular routes in the Caribbean as they continue to recover from the hurricanes and prepare to welcome visitors back to their beautiful shores," said Giselle Cortes, director of international airports for JetBlue. "We remain committed to helping the Caribbean region recover by continuing to increase capacity as demand returns."
JetBlue's Flight 807 will fly from Boston each day from 9:20 a.m., arriving at St. Thomas at 2:19 p.m. The airline's Flight 808 will depart St Thomas at 3 p.m. and arrive in Boston at 7:41 p.m.
JetBlue will return as a sponsor of the 2018 Chili Cook-off in St. Thomas, which takes place Sunday. Festival-goers can stop by the JetBlue tent for "fun surprises," the airline's news release said.
This will be the fourth year in a row that JetBlue has been a sponsor of the Chili Cook-Off, part of what the news release called "the airline's broader commitment to the Caribbean region as it increases capacity in hurricane-impacted markets."
All JetBlue flights feature award-winning service with comfortable seating; complimentary and unlimited name-brand snacks; more than 100 channels of free SIRIUSXM radio programming and 36 channels of free, live DIRECTV programming on personal seatback televisions and the most legroom in coach.