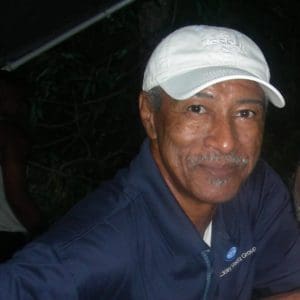 When the staff of the V.I. Legislature wanted to pay a video tribute to its former Public Relations chief, Lee Vanterpool, they found it was not as easy as they thought it would be.
Despite the obstacles, LEGVI Media Services went on with the show in memory of the performer, media specialist and government spokesman.
As the weekend began, Sen. President Myron Jackson announced a televised tribute to Vanterpool would run Saturday and Sunday on the Legislature's TV channel, LegiTV. The public was invited to tune in to see the former local TV newsman and popular master of ceremonies in some memorable moments.
Vanterpool served as communications director for the first branch of government for several years in the 1980s and 1990s. He died June 23 in Conyers, Georgia, at the age of 75.
"At the Legislature, we honor his role is keeping the public informed of hearings and other events as a former director of news for the institution. He was a crucial part of the engine of our Division of Public Affairs," Jackson said.
But when acting Public Affairs Director Barry Leerdam tried to reach into the dusty stacks of video gold, the pickings were slim. Because Vanterpool served more than 20 years ago, LEGTV hadn't made the scene yet.
Leerdam, a veteran of the public affairs office, worked alongside Vanterpool. In those days, he said, the staff worked with audio clips and written press releases. Most of the video on had was from the coverage of election results, when Vanterpool did on-camera work for public TV, WTJX.
"Who would have had something on Lee would have been Channel 12. He was very active there and he was a fixture for everything with the Board of Elections," Leerdam said.
According to Leerdam, much of that was blown away from its lofty home on Haypiece Hill after Hurricanes Irma and Maria hit the territory last year. Also most likely gone with the hurricane's winds were hopes of footage of Vanterpool officiating over public swearing in ceremonies.
There was no talk of classic footage from the days when Vanterpool and co-anchor Aquanette Chinnery hosted the news on WBNB, Channel 10.
The chance for Vanterpool fans, past and present, to once again see the tall, slim, clean cut former dancer with the sonorous voice faded away. So with the production countdown ticking off towards this weekend, Leerdam and the public affairs team did the next best thing. They shot interviews with each other.
Reflections of Vanterpool were captured on tape from former co-workers Hectito Francis – now a radio talk show host on WSTA and Jeraine Fleming, who took her public relations skills to the Water and Power Authority. There were also the memories of Bobby Thomas, the current Public Affairs director at the Legislature.
Thomas is on leave while campaigning for a seat in the 33rd Legislature. He recalled how he first worked with Vanterpool as a summer intern when he was a college student. He applied for a permanent post upon graduation.
Applying, waiting, interviewing, and waiting, took eight months, he said. Those efforts were rewarded with a government job. After six years of teamwork, Thomas said, Vanterpool was ready to move on, but not before imparting some wisdom on how to handle the job.
"Lee was the person I used to model. He gave us the simplest advice possible. That was, not to get involved in the politics. He was the one who told us to do the job," he said.
It was the lawmaker's job to represent the people, Vanterpool explained to a young Thomas. If that meant speaking out or acting aggressively on the floor, that was their job.
In essence, Vanterpool told his staff the boisterous goings on that the public was familiar with was a form of window dressing.
"And it was our job to represent what was taking place in terms of them doing their job, but it wasn't our job to get caught up in the politics. That was a key lesson for us," the director said.
A memorial services for Virgin Islands family, friends and co-workers of Lee Vanterpool was held at Magen's Bay Beach on Sunday.