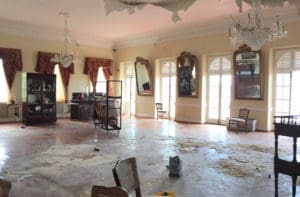 After the September 2017 hurricanes, Government House on St. Thomas stood unlocked indefinitely, calling into question the security of priceless historical artifacts and paintings by Camille Pissaro and others, some valued at hundreds of thousands of dollars.
Questions began in January and half a year later there are still no definitive answers. For months, Government House has stonewalled requests that the executive branch demonstrate what Senate President Myron Jackson has called the "Virgin Islands' patrimony" are still in its possession and unharmed, insisting journalists and territorial residents take it on trust.
Julio Encarnacion III, a conservator hired in April by Gov. Kenneth Mapp, says he is cataloguing all the items and hopes to present a comprehensive report in the near future. Once that list is in hand, how will the public know nothing has disappeared?
There are past appraisals of some of the government's art and antiquities that are partial inventories. But when journalists asked for them, Attorney General Claude Walker asserted V.I. law bars disclosure of appraisals of government-owned property.
V.I. law prohibits disclosure of some appraisals. But not all. The statute prohibits only appraisals and appraisal information "concerning the purchase of real or personal property for public purposes,
prior to public announcement of a project." The public items in question are neither being purchased nor sold at all, much less "prior to public announcement of a project."
A 2013 Christie's appraisal inventory has been previously made public and in 2015 a V.I. Source reporter personally reviewed the disorganized boxes of paperwork cataloguing some of the government's possessions.
Compiled below is a partial list of the main items known to have been stored or displayed at St. Thomas Government House. If any item on the below list is not accounted for whenever the government produces photographic or other proof of what it has now, some explaining will be necessary.
The Source sent this list to Government House, with a V.I. Open Records Act request for photographic proof of its continued safety and security in V.I. government possession.
Walker responded, saying a list is being compiled. But without past inventories to compare with, a list alone will not reveal if anything is missing.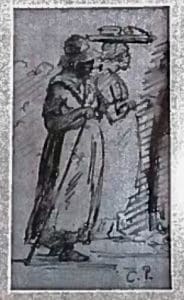 "The Virgin Islands conservator, Julio Encarnacion, is diligently compiling a comprehensive list of all of the items in a manner that was not previously done in that each item will be catalogued properly, with all relevant publicly-releasable information, consistent with homeland security considerations, such as pictures and dimensions, for example," Walker said.
"This list will eventually be made public, upon completion, but will not be released in a piecemeal manner. He needs time to prepare the list," Walker concluded.
In a recent phone call, Encarnacion confirmed he is compiling an inventory.
"I am doing it diligently to make sure the community is satisfied once I am finished. But it is being taken care of," Encarnacion said.
"Photos are being taken at the moment. You will see all the photos, with dates," he said. Encarnacion said past inventories have limited information, so he hopes to improve on what has been done in the past, so that the final product will contain all the information historians, appraisers and others might want in the future, as well as providing a snapshot in time.
He said he wants to make the final report a sort of photo-story that would itself be a collectors item for future historians. He said he collects historical pamphlets and records "and with that same collector's mind, I want to do it that way so it could be something of worth," he said.
Encarnacion would not give a timeline, saying he was working quickly but could not be certain. But he did say it would probably be "soon."
Jackson, an historian himself, has long championed legislation to codify procedures for handling what he calls the Virgin Islands' "cultural patrimony." The Legislature recently enacted a law he proposed requiring the creation of a board and the hiring of a professional, credentialed conservator.
In a phone call recently, Jackson said he had no issues with Encarnacion, but was dismayed the governor was ignoring the law establishing credentials for the conservator and a board to oversee the process.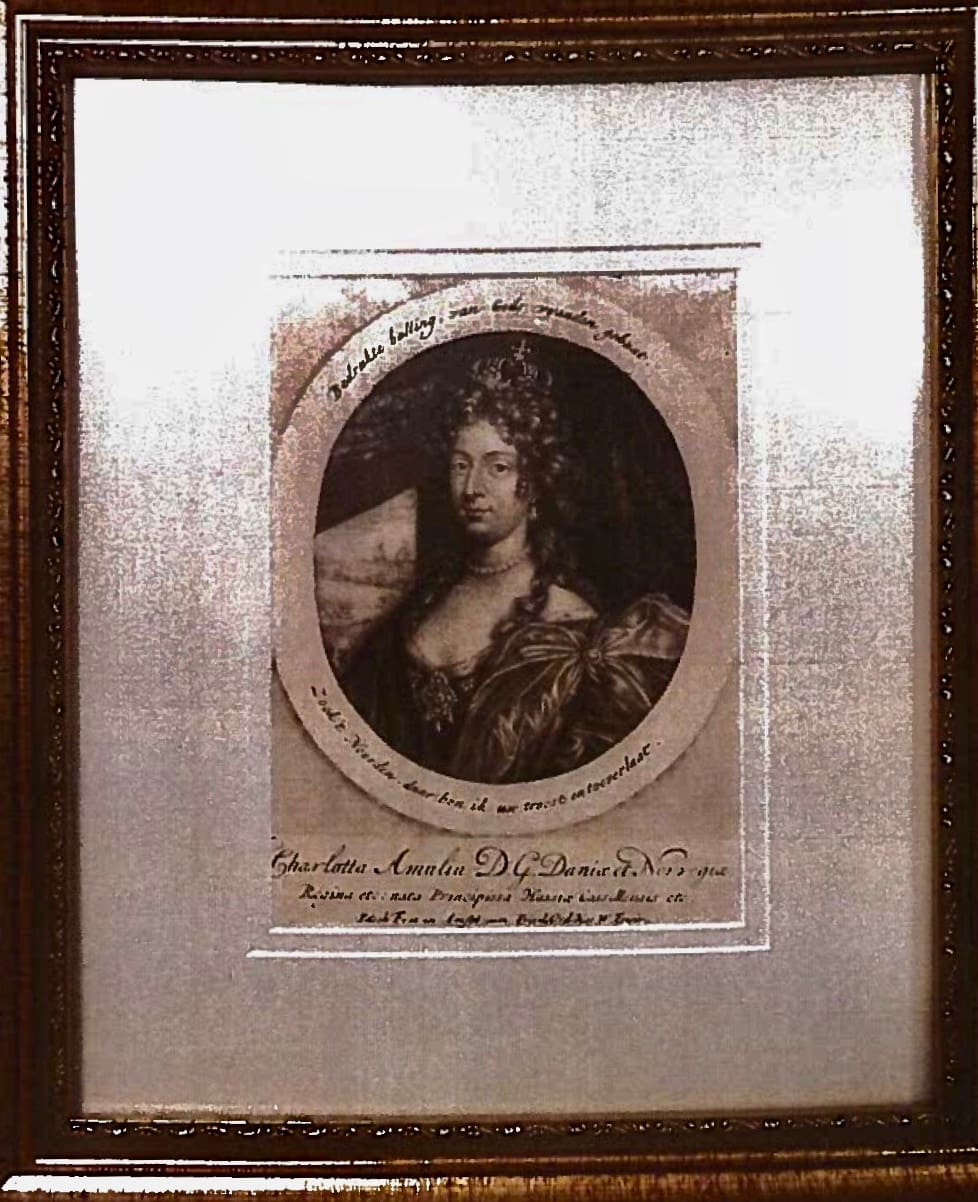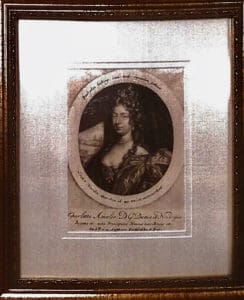 "These items do not belong to the governor of the U.S. Virgin Islands. They belong to the people of the territory. It requires a protocol regarding the cultural heritage and patrimony of a people," Jackson said.
Jackson said he will call a hearing in the near future to try to get a better accounting.
Meanwhile, these are some of the more prominent items known to have been kept at Government House on St. Thomas, whose continued possession and good condition should be documented in the forthcoming report:
Late 19th and early 20th century paintings:
– Thomas Hart Benton's "Nymphs in Garden"
– One painting attributed to Gustave Courbet entitled "La Source"
–Armand Guillaumin's "Landscape with Curving Path"
– Peppino Mangravite's "Columbus Landing"
– Peppino Mangravite's "Transfer Day Celebration"
– Peppino Mangravite's "Sugar Cane"
– Leonard Midori's "Bull and Figure"
– Camille Pissarro;s "Soleil Couchant a L'Ergny" dated to 1892
– a painting attributed to Camille Pissarro entitled "Landscape at Nightfall"
– Camille Pissarro's "Study of Two Young Women"
– Camille Pissarro's "St. Thomas"
– Camille Pissarro's "Figure in a Forest"
– Camille Pissarro's "Maison en lisiere d'un bois"
– Edouard Vuillard's "Le Sable"
– Zao Wou-Ki"s "Hommage a Henri Rousseau"
– two J.M.W. Turner water colors, titles not known to the Source;
– a 19th century painting, artist unknown, entitled "A view of the West Indies"
More recent paintings by Virgin Islands artists:
– an Albert Daniel painting of a young man;
– a harbor scene by Ira Smith
– a portrait of Edward Wilmot Blyden by Aline M. Kean; marked missing in the 1991 inventory in the lobby, marked as "missing" at the time of the 1991 inventory.
Several paintings hung in Government House on St. Thomas whose artists' identities are not known to the Source:
– a painting of Government House on St. Croix,
– two paintings of Government House on St. Thomas,
– a painting of a jazz band playing,
– a painting of Fort Christian,
– "Winter" ' 65: a stylized oil painting of three black men working. One is swinging a large pick, reminiscent of the American folk story of John Henry.
The following antiques and artifacts:
– A Coptic textile, attributed to the third or fourth century, gifted to the territory by Norbert Schimmel on Dec. 20, 1954;
– A hand-woven, wool on wool tapestry from about 1700 and probably created in Flanders, shows a stylized fountain in colors of green and blue with some gold.
– A more recent tapestry dating to about 1900 and coming probably from France, depicts a couple dressed in late 15th century costumes
– An 1819 Bible that was owned by the islands' Danish Gov. Peter Van Scholten and donated to the U.S. Virgin Islands by his descendent, Jobst van Scholten, in March 1983;
– A Royal Danish porcelain writing set that von Scholten used to sign the Emancipation Proclamation freeing the slaves in the Danish West Indies in 1848. It was presented to the territory in November 1967 by Mrs. J. von Scholten.
– A mezzotint of Queen Charlotte Amalie, created in the 1690s by a Dutch artist named J. Cole, brought by members of the Danish West Indian Society from Copenhagen in 1971.
– An 1850s lithograph depicting a scene from the Virgin Islands by E.M. Baerentzen Co. donated to the Virgin Islands by R. Troncone and R. Ferrelli of Greengage Co. in 1991.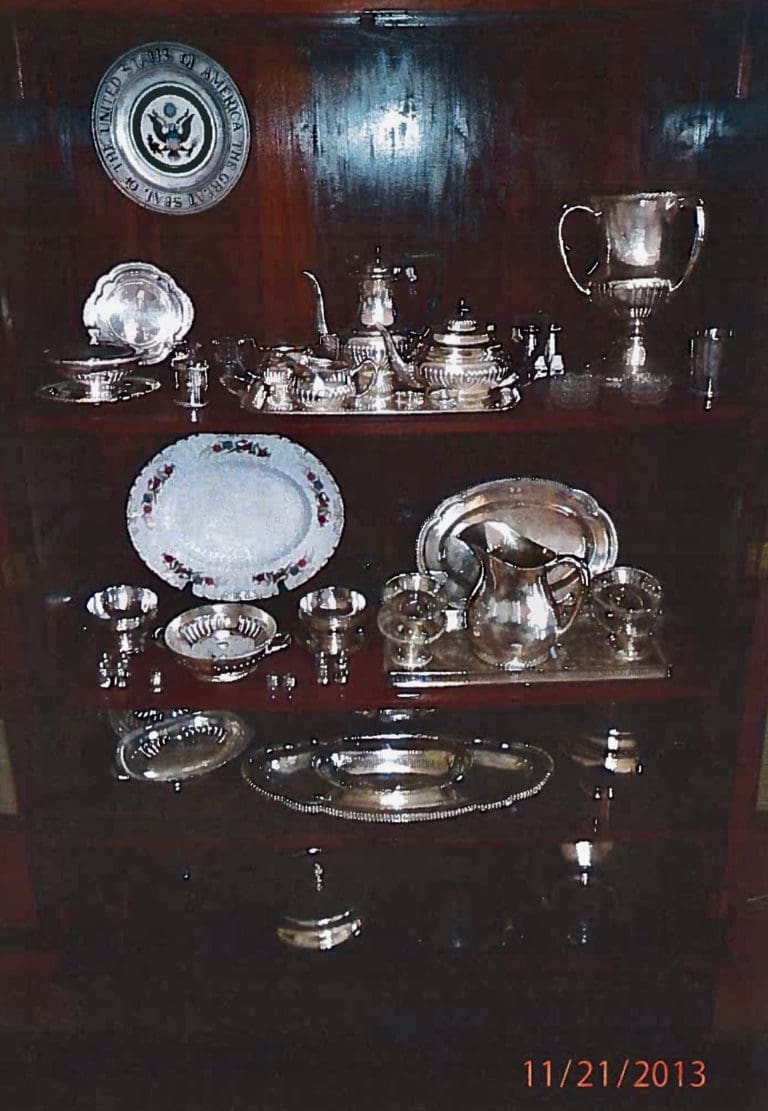 Fine silverware consisting of:
– Four different 18-inch silver trays;
– two 16.5-inch silver trays;
– two 14-inch silver trays;
– two 12-inch silver trays
– two additional silver trays whose size is not listed
– One 10-inch silver bowl;
– One 8-inch silver bowl;
– One 7.5-inch silver bowl;
– one 12.5-inch silver basket;
– 11 silver finger bowls, eight of them with saucers;
– five sets of silver salt and pepper shakers;
– three silver serving pieces;
– two silver teapots;
– two silver chocolate servers;
– four silver candy dishes;
– three silver cream and sugar sets;
– two silver chafing dishes; a silver gravy boat,
– one a silver pitcher
– one silver coffee pot.
Fine China
– Serving trays, plates, cups, saucers, teapots and crystalware as photographed in the 2013 Christie's appraisal.