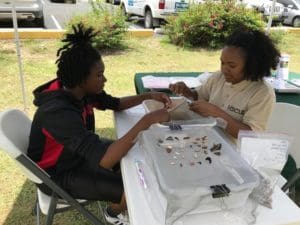 The National Park Service invited budding archeologists of all ages to get their hands dirty at Christiansted National Historic site from July 23-27 for the third field season of the Slave Wrecks Project Community Archeology Program.
Archeologists from the NPS Southeast Archeological Center are back on St. Croix, continuing their excavation at the site of the Danish West India and Guinea Company Warehouse that dates to the 1750s.
Michelle C. Gray, an archeologist who hails from Tallahassee, Florida, said she is happy to be back on St. Croix. Gray pointed out several units measuring two meters by two meters each, where enslaved Africans lived and worked in the Danish governmental complex at Fort Christiansvaern.
Historic building material, rubble and trash are visible at the site, as is a raised part of the building. This year the research is to find the purpose of the building, because it doesn't show up on archival maps, Gray said.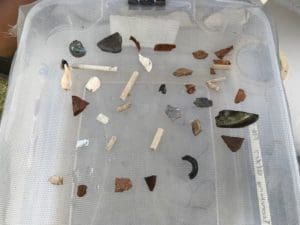 A butcher shop or some kind of animal processing is apparent from the animal bones found. A pig's jaw was found just outside of the building. Artifacts made by the enslaved Africans and smoking pipes have also been found. The building foundation goes down at least three feet, Gray said.
As folks moved around the area to inspect and ask questions, St. Croix resident Gail Johnson commented, "We're standing on history." Johnson and her husband moved to St. Croix from California in February and she said they visited many islands before choosing St. Croix.
Student archaeologists Tiara DeCosta and Kayla Richardson were busy cleaning artifacts with plain water and a toothbrush. Richardson is a senior at Central High and volunteers for the Park Service. She is a tour guide and enjoys cleaning the inventory, she said.
"We use a dry brush for the metal findings, so they won't get damaged," Richardson said.
DeCosta is a senior and a psychology major at the University of the Virgin Islands. It is her second year as an intern with the project. "I learned a lot the first time around in 2016 and decided to come back," she said.
"I worked in the museum archives helping with inventory. I sailed to Buck Island to observe what happened after Hurricane Maria. I worked in the fort museum helping to put things back in order," said DeCosta, adding that it was a "cool experience" for her.
"My plans are to attend the University of Tulsa and concentrate on museum sciences," said DeCosta. "This internship experience has been a major influence on me. I am interested in history. I fell in love."
DeCosta will travel to Tuskegee University for one week this summer for the Greening Youth Foundation, which provides internships for youths. It is a nationwide project in collaboration with HBCUs.
"We will present what we have experienced as interns," she said.
Archeologist Meredith Hardy has been with the NPS for almost 19 years. She was a graduate student at Florida State University when she decided to take a permanent job and do research with the NPS while working on her PhD. Hardy has been coming to the territory since 2002 supporting the three parks on St. Croix and occasionally the park on St. John.
"I love it here, because you get to see everything prehistoric," said Hardy, whose dissertation was on prehistoric culture on St. Croix.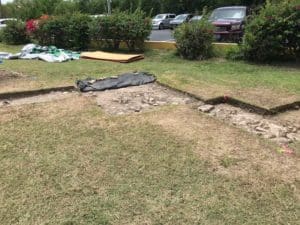 "You see so many layers of history. It's just underneath your feet," she explained. "Being in an urban area, you're engaging people all the time. It's one thing to just go and do archaeology, do your research and publish it. That's not why we should be doing this."
"I love the engagement part of this and making opportunities to teach youth the skillset, so it's not people from off island doing it," Hardy added. "It's going to be local kids doing the research eventually. That's why I do it."
The Slave Wrecks Project (SWP) has fostered public and scholarly understanding of the role of the African slave trade. The archeological investigation of slave shipwrecks and the terrestrial sites promises to provide a new perspective on our understanding of the Trans-Atlantic trades of enslaved people. Markets in which the enslaved were sold like the Christiansted National Historic Site, maroon sites and encampments, and free black communities are vital to that perspective, the project proposes.
The National Park Service launched the first SWP research efforts in U.S. territorial waters and the Western Hemisphere in 2015. The Mary and the General Abercrombie are two documented slave ships that wrecked on the reefs at Buck Island National Monument, St. Croix. A survey, inventory and assessment of submerged resources will be used in conjunction with investigations on land sites that all relate to St. Croix's history as an epicenter of the Trans-Atlantic Slave Trade.