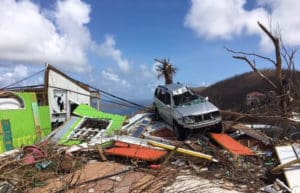 The public has until Friday, July 27, to weigh in on an extensive series of recommendations laid out in the government's Hurricane Task Force report.
Members of the task force said the recommendations fall into four strategic buckets: hardening the territory's infrastructure, re-configuring existing systems, changing governance and regulation, and improving planning.
The work behind the report started in October and at June's Hurricane Task Force meeting, Gov. Kenneth Mapp said it could be used as a "guidepost" to help the territory rebuild from and plan ahead of disasters "better and stronger."
An assessment of last fall's storms was also conducted and the potential threat of disasters spanning the next three decades – including the impacts of climate change – was also included in the final report.
More than 200 recommendations are included in as many pages, focusing in large part on shoring up the territory's power generation systems and other infrastructure, such as roads, schools, medical facilities and communications systems. Specific threats include hurricane winds and storm surge, among others.
"The storms severely damaged the islands' critical infrastructure, knocking out electricity and telecommunications for months, blocking roads, shutting down ports and airports, damaging water and wastewater facilities, generating hundreds of thousands of tons of debris and damaging more than half of the territory's housing stock," the report said. "Total damage is estimated at $10.8 billion: $6.9 billion to infrastructure, $2.3 billion to housing, and $1.5 billion to the economy."
While any location would struggle from the back-to-back impact of two Category 5 storms, the report indicates the territory was also less than prepared, which is what the recommendations seek to remedy. Specifically, the report highlights "decades of underinvestment" in infrastructure, along with poor maintenance, under-enforced infrastructure standards, no regulation in addressing storm resilience in sectors such as the telecom industry, no updated storm plans and no pre-storm preparation, such as topping off generator fuel supplies.
Hard copies of the report are available beginning Tuesday at:
– St John at the St. John Community Foundation and Long Term Recovery offices at the St. John Marketplace;
– St. Croix at the Florence Williams Public Library;
– St. Thomas at the Charles Wesley Turnbull Regional Library.
Hard copies are also available on all three islands at the offices of the respective district administrator.
Online, the 280-page report can be accessed at www.usvihurricanetaskforce.org.
Once public feedback is compiled, a final report will be released in August, according to officials.
Hardening and Fortifying
In rebuilding over the past few months, much emphasis has been put on not simply replacing what was there before, but strengthening the local infrastructure so that it can withstand future natural disasters. According to the report, related recommendations include:
– Burying power lines where possible and using composite poles, along with better protecting power plants and substations,
– Strengthening telecom towers against high winds and burying the remaining aerial portions of the V.I. Next Generation Network,
– Rebuilding seaports, expanding container ports and the Red Hook Customs clearance center,
– Expanding and modernizing airport terminals,
– Developing a retrofit housing program for older buildings that were built before revised building codes enacted in 1995.
Reconfiguring Systems
Creating new ways of delivering basic services while also finding backups – such as renewable energy systems – that can sustain the islands after a disaster is the second strategy included in the report. Related recommendations include:
– Diversifying the energy system by adding 50 megawatts of renewable energy generation supported by battery story onto the grid by 2025 will make St. John independent of St. Thomas for power,
– Tying important facilities such as hospitals and telecom towers into microgrids will help those systems operate independently even if another part of the system fails,
– Set up a cloud-based backup for government data and applications,
– Switch to buried fiber cables instead of aerial cables "of any sort" and install a new public safety system,
– Increase options for pedestrians and alternative transit,
– Install roundabouts instead of relying on streetlights,
– Conduct a territory-wide drainage study,
– Add redundancies to the wastewater system, eliminate some pump stations, and separate wastewater from storm water systems,
– Close the Bovoni and Anguilla landfills and mandate a territory-wide recycling program,
– Expand water systems to serve isolated communities,
– Introduce electronic health records territory wide.
Strengthening Governance and Regulations
Energy and healthcare were the two major focal points in the third strategic bucket, which looks at overall regulation. Along with the physical damage inflicted to healthcare and energy systems and facilities across the territory, the addition challenge of having to deliver and provide services without power, increased costs and limited access to fuel severely impacted the islands and indicates the need to fix several systemic problems, according to the report.
"In terms of healthcare, patients in need of long-term medical care were forced to evacuate," the report said. "Inadequate funding, workforce shortages, limited educational programs, licensure processes and aging infrastructure all contributed to the pre-storm operational challenges and must be addressed while rebuilding healthcare infrastructure in the recovery," the report said. "Looking ahead, the USIV must rebuild stronger facilities, improve emergency planning and response, engage in cemented private/public partnerships and work diligently to enhance healthcare communication systems and technology that will allow the territory to rebound quickly after natural disasters."
Related recommendations include:
– Coming up with detailed emergency plans to prepare for extreme events across all categories, focusing especially on power backup generation and coordination of government response,
– Reforming the energy power purchasing process, updating tariff structures and improving and clarifying system governance,
– Updating building codes based on what was learned in the hurricanes,
– Lobbying Congress to pass a better Medicaid reimbursement rate with the federal government,
– Reforming the system for hospital boards and reconsider creating a territorial healthcare exchange.Installing backup power generation that can last through long periods of time, making sure generations are filled and maintained and creating an emergency operations center for the entire territory, along with developing pre-hurricane checklists and plans that can be reviewed and implemented agency by agency were also included in the final recommendations for better planning and preparing for future storms.