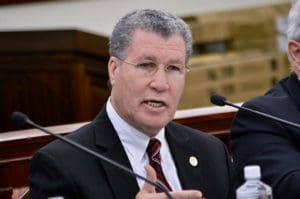 Rhys Hodge, chief justice on the V.I. Supreme Court, had 17 pages of testimony to justify his budget request of $46.6 million but it did not impress Finance Committee chair Sen. Kurt Vialet.
"We need to come up with some realistic figures," Vialet told Hodge Wednesday. He said the request which was $12 million more than recommended by the governor was "overly ambitious."
Sen. Novelle Francis concurred, saying "obviously" the Senate could not grant all that was requested.
Hodge said he was only requesting "what was needed," and he had no input on the governor's recommended budget which was $1 million less then the budget the judicial system was operating under now. His budget request includes raises for employees – 7 per cent for judges and 5 per cent for everyone else. It also includes filling many of its 65 vacant positions.
Senators also voiced concerns, during the budget hearing, about the length it took to resolve some court cases – civil and criminal.
Rhys testified that 440 jury cases on St. Croix were pending and 127 non-jury cases; on St. Thomas 192 jury cases were pending and 90 non-jury cases.
Vialet wanted to know why so many more cases were pending on St. Croix than St. Thomas. Hodge replied another judge had been added on St. Croix but as yet the judge did not have a specific courtroom to use and was presently "a rover."
Sen. Marvin Blyden characterized probate court as "a serious, serious problem."
Hodge said he wanted to hire a case manager and a clerk whose sole focus would be probate cases. Probate cases take a notoriously long time in the territory and were spotlighted after last year's hurricanes and hundreds of residents could not get help from FEMA because they did not have clear titles to their homes.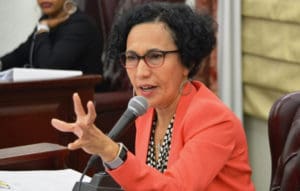 Sen. Nereida Rivera-O'Reilly was exceptionally critical of the judicial branch. She said, referring to unnamed judges, "you sit in your cushy chairs" while the cases back up. She asked Hodge what was being done to hold the judges responsible who weren't doing their jobs. He said he was proposing to set time limits on certain things a judge could do.
Sen. Dwayne DeGraff suggested the proposed raises be reversed – the judges get the 5 per cent raises and the rest of the employees get 7 per cent.
The budget proposal included $24.3 million for personnel plus $10.5 million for fringe benefits. Hodge said he would present a revised budget to Vialet.
Magens Bay Authority
Hubert Brumant, general manager, Magens Bay Authority, also testified Wednesday on the authority's proposed budget. The authority generally does not receive any money from the V.I. government, but Bruman indicated this year for the first time it may end up short (about $400,000) and may need government help.
The authority manages 98.59 acres of land:
– 68 acres at Magens Bay Park,
– 21.732 acres at Smith Bay Park, also known as Lindquist Beach,
– .25 acres at Drake Seat, and
– 8.61 acres at Estate Peterborg.
Senators suggested the authority raise some of its fees. Presently, the fee to enter Magens Bay is $5 for a tourist and $4 for residents. Senator were against raising the fees for locals, but did not believe raising the fees for tourists would be a deterent.
Sen. Brian Smith also suggested that the concessionaire at Magens Bay was getting off easy, paying 8 percent of its gross to the authority every month. He said the concessionaire should be paying 12 percent of its gross plus paying rent.
The authority has 25 employees. The anticipated cost for personal services for fiscal 2019 is $1.8 million.