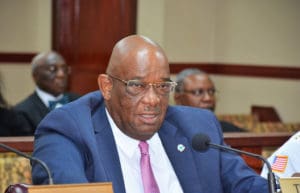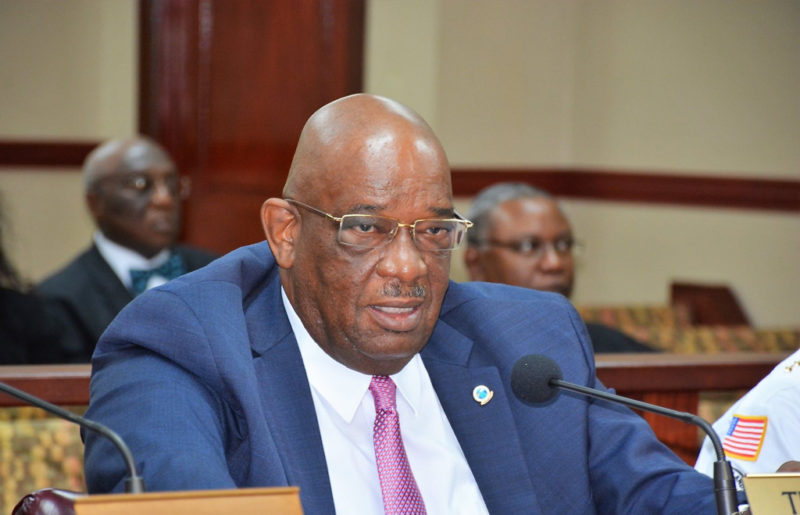 The V.I. Police Department is aggressively ramping up recruitment to remedy a severe staffing shortage, VIPD Commissioner Delroy Richards told the Senate Finance Committee on Thursday.
According to Richards both new and experienced officers —  21 officers on St. thomas and 11 on St. Croix — left the department in the last fiscal year. This year an additional 126 employees are eligible for retirement territorywide, said Richards, and another 41 employees will become eligible in the next three years.
"A review of the external factors revealed that these officers separated from the department due to non-competitive pay and change in the law," said Richards, referring to 2015 legislation that changed the retirement criteria for officers employed as of October 2005 from 20 years with no age minimum, to 25 years of service and a minimum age of 58.
To stymie its staff losses the VIPD is now administering entry-level examinations twice a month in each district as opposed to quarterly. The department also increased the entry-level salary for police officer positions from $30,000 to $40,953, and raised the salaries of existing positions to reflect that minimum. As a result the VIPD is currently reviewing some 447 employment applications for positions territory-wide.
The aftermath of the two 2017 hurricanes put significant strain on the VIPD, with sworn personnel working 12- to 16-hour shifts. As a result, according to Richards, the VIPD continues to exceed its staffing ability and incur overtime costs in spite of their efforts to deploy officers strategically to make up for shortages. The state of emergency also meant paying officers twice their salary, per their contract, as well as paying non-essential personnel administrative wages while they stayed home.
"I need more police," said Territorial Police Chief Winsbut McFarlande, Sr. when asked how many police officers the department ideally needs. "I need all the police you can give me right now."
The department is suffering from a major officer shortage on St. Thomas, according to Richards, forcing the department to fly St. Croix officers over on busy days.
"I have been chartering flights so that I could provide St. Thomas with the coverage they need, especially on certain key days when you have these cruise ships onboard," said Richards. "So it's been costing me along the line because I've lost a lot of police officers on St. Thomas."
This year the VIPD is asking for an appropriation of almost $64 million, including $58.7 million from the General Fund, $1.86 million from the consent decree budget, and $325,000 in miscellaneous funds.
VIPD officials also reported that crime in the territory between January and May dropped by 30 percent overall this year compared with the same timeframe in 2017. A decrease in reported robbery, arson and aggravated assault reflect much of the decline. Reported arson dropped by 74 percent, from 23 cases to six, while reported robbery went down by 67 percent, from 55 incidents to 18. Reported aggravated assault was slashed in half, from 297 cases to 152.
In spite of the overall drop in crime, reported homicide and rape cases persisted in the territory. Homicide remained steady, with 17 total cases in 2018, 19 when June numbers are included. Reported rape cases went up by 78 percent, from 9 incidents between January and May last year to 16 this year.
Richards also reported that the department is making "steady progress" toward consent decree compliance. From being 20 paragraphs shy of substantial compliance one year ago, the VIPD is now down to working on five paragraphs. Because some consent decree paragraphs are connected, Richards expects that some of the remaining deficiencies will be addressed simultaneously.
Law Enforcement Planning Commission Director Franz Christian also presented his agency's FY 2019 budget of $801,000, a decline of $114,450 compared with last year's appropriation. Of that amount, some $658,000 will go toward personnel and fringe benefits.
LEPC's responsibilities fall under the Omnibus Crime Control Act of 1968, as well as the Juvenile Justice and Delinquency Prevention Act of 1974. Since 2012, it has administered 10 federal grants related to criminal justice, juvenile delinquency and victims services totaling $11.4 million, with beneficiaries ranging from the Department of Justice to various local non-profits. For FY 2018, LEPC has applied for approximately $2.4 million in federal grants.
The agency currently holds a high risk designation by the U.S. Department of Justice after a 2012 audit by the Office of the Inspector General. The agency has since addressed the 25 issues raised in the audit, according to Christian. Based on a site visit review by a DOJ team in March 2017, as well as the release of some $6 million in federal funds held since 2012, Christian said he anticipates that the DOJ will soon lift the high risk designation.