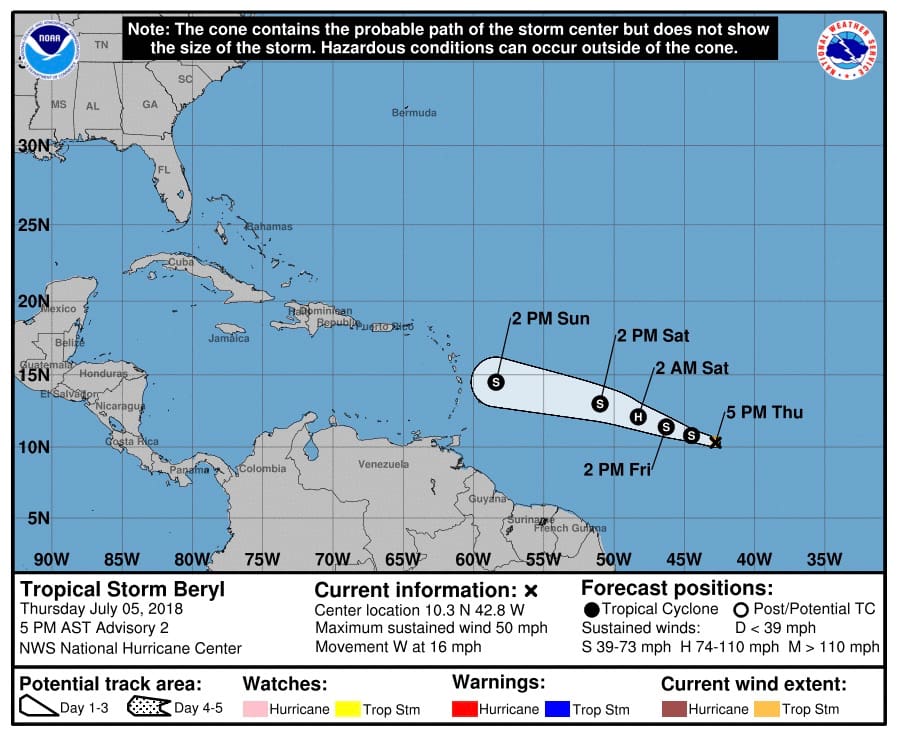 Meteorologists at National Hurricane Center have upgraded a mid-Atlantic tropical depression to Tropical Storm Beryl, calling the storm's rapid development a surprise.
The system is more than 1,300 miles east-southeast of the Lesser Antilles, but the NHC gives it only a 40 percent change of further formation through the next five days.
"Beryl has been a bit of a surprise today, which is not uncommon for tiny tropical cyclones such as itself," the NHC 5 p.m. Thursday advisory said, noting, "It's usually difficult to get a good handle on the intensity of these types of cyclones."
The center determined the intensity of the storm to be 45 knots, but added "there is a lot of uncertainty in this estimate."
And if the initial intensity is uncertain, the future is even more of a quandary, the NHC continued.
"Despite being surrounded by abundant dry air, Beryl has apparently been able to isolate itself and possibly moisten the near-storm environment while located in an area of low
shear. Since the shear is expected to remain quite low for the next 36 hours or so, and small cyclones like Beryl often have a tendency to strengthen quickly over a short period of time, continued intensification appears likely for the next day or so."
Forecast models suggests Beryl could reach hurricane strength within 36 hours, but after that time increasing westerly shear is expected to cause weakening.
The one stable part of the forecast is Beryl's future track, the forecasters said. Beryl is expected to slow down a bit during the next 24 hours.
While this storm system is expected to dissipate by the time it reaches the northern Lesser Antilles, there is a good potential for widespread shower activity and locally gusty winds across the Virgin Islands, Puerto Rico, and Hispaniola on Monday.
"While Beryl is still expected to dissipate as a tropical cyclone by Monday before reaching the Lesser Antilles, there will likely be some rain and wind impacts on those islands early next week," the advisory concluded, urging residents to monitor their local weather reports.