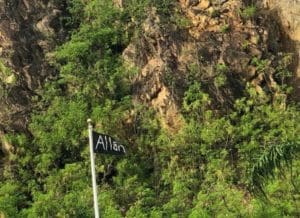 The black flags with the word "Allāh" that V.I. Port Authority officers found flying at the entrance of Cyril E. King Airport Friday morning are not ISIS flags nor the symbol of any known Islamic group, radical or otherwise.
In a phone call Friday, Ibrahim Hooper, spokesperson for the Council on America-Islamic Relations, said the word "Allāh" by itself, in English, makes no sense as a flag and is not used by any known radical group. He speculated it might be an effort by someone to stir up mistrust, but acknowledged he could not know for sure.
"We have seen on a number of occasions in the past where people try to stoke fear and mistrust with this type of incident," Hooper said.
"I don't know if this is one of those incidents, but they have happened in the past. And I'm not talking about Muslims doing this," he continued.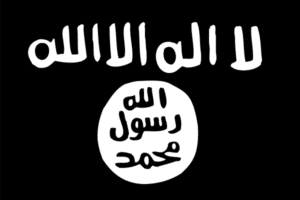 Hooper said the flag is not similar to the ISIS flag and that using the word by itself is nonsensical, especially in English.
"It doesn't make sense, particularly in English. Even in Arabic it doesn't make sense on a flag," Hooper elaborated.
Asked why it did not make sense, Hooper said there were some traditional phrases used in many Islamic contexts, but the word by itself is not one of them.
"The ISIS flag has the declaration of faith on it, in a particular style which, by the way, is common to other flags. For example the flag of Saudi Arabia has the declaration of faith on it. And other flags have the star and crescent on them. But I know of no flag that is like (those on St. Thomas) or used that way by some extremist group. So I would think it is some kind of hoax. I don't know, obviously, but I would lean in that direction," Hooper said.
Hooper also suggested the St. Thomas flags seem like something someone who was unfamiliar with Islam might do.
The Source reached out by phone and email to the Virgin Islands Islamic Society and the St. Thomas and St. Croix mosques for comment and input but had not yet received a response as of 4 p.m. Friday.
A search online found no flags or banners with the word "Allāh" by itself, in English. There are a number of Islamic banners and some use a black background, in reference to accounts that Muhammad, the founder of Islam, flew a plain black flag. But none are in English nor use that word in isolation rather than part of an established phrase.
Some Muslims and some Christians have claimed the word to be solely Islamic. But Allāh is the Arabic language word for God and is not specifically Islamic, either historically or in present day practice. In the Middle East, Arabic speaking Christians and Jews also use the word to refer to God, much as the French say "Dieu."
The flag adopted by ISIS has the phrase "There is no god but Allāh [God]. Mohammad is the messenger of Allāh" written in Arabic in white on top. This is the same declaration of faith Hooper referred to, which is also on the Saudi flag. The historical flag adopted by ISIS also has a white circle, designed to resemble a stamp such as those historically used to seal letters, saying "Mohammad is the messenger of God," also in Arabic script.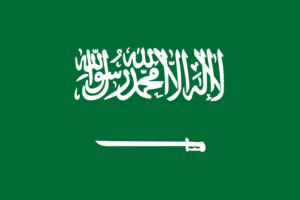 Both phrases are common and have long roots in Islam. According to multiple sources, while that particular flag has been adopted by several radical or militant organizations, including the Islamic State, it predates and is not unique to those groups. Several sources say ISIS uses the symbols as part of an effort to co-opt the symbols of mainstream Islam and claim to speak for all Muslims. (See: Isis flag: What do the words mean and what are its origins? in Related Links below) As mentioned before, the same phrase is on the Saudi flag.
The flags flown at Cyril E. King Airport are not the ISIS flag nor any other known Islamic flags, banners or symbols, whether traditional or those associated with extremist groups.
The Islamic Center on St. Thomas announced Friday it will be hosting a meeting on Sunday, July 1, at 3 p.m. to address the flag incident.
Leaders of the St Thomas Muslim community, local clergy, other community leaders and residents are invited to attend. The Islamic center in on Eight Street and can be called for more info at 340-513-4041.
Editor's note: 29 -year old Alla H. Salem of St. Thomas has been arrested in the flag tampering incident. While not a hoax, they are not connected to any radical group.