More than 100 people gathered Tuesday at the UVI Fitness Center for their first look at plans to modernize St. Thomas's Cyril E. King Airport.
David Mapp, executive director of the V.I. Port Authority, opened a charrette to present and get feedback on the plans to update St. Thomas' 30-year old air terminal.
Conversations on the revitalization of the Cyril E. King Airport began in 2015. Now, with repairs from the hurricanes well underway and the expected $230 million in funding seemingly in place, Mapp thought the time was right to hit the start button.
He made no bones about the enormity of the task ahead. In brief opening remarks Mapp said "Today (Tuesday) marks the beginning of a long process that will revitalize our tourism product."
He quickly moved on to introduce the three firms that will bring the project to fruition. Each firm spoke of their experience in the design and construction of airports.
– Manny Garcia is president of Lemartec, a 40-year-old construction management company. Lemartec has been awarded a master service agreement to rebuild VIPA assets that were impacted by Hurricanes Irma & Maria. The company has already assessed 104 of the Port Authority's 120 properties, and currently have 36 in the design stage while continuing to make recommendations to repair, replace or forgo work and then to prioritize the efforts.
"We are here to discuss the evolving vision that we have for the airport," Garcia said, asking for a high level of public participation in the plan.
He discussed the progress of the roof repairs and predicted the work on the interior would begin by the end of July.
– Tomas Olivera, project manager for the engineering company Kimly-Horn, spoke about the ever-increasing competition for tourists and said the territory must update CEKA in both aesthetics and functionality.
"Airports operate differently now, the types of planes have changed, security needs are greater and travelers now expect a higher level of comfort and amenities."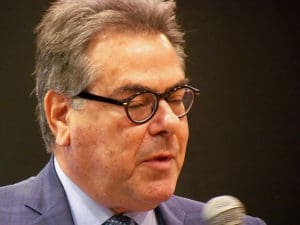 – Daniel Perez, president and design partner at Perez & Perez Architects, surprised many when he said that 60 percent of an airport's revenue is now generated from retail and concessions.
The current plan calls for an open and airy second level that will take full advantage of the surrounding water views and verdant hillsides.
He stressed the necessity of sky bridges at all gates and covered connectivity to ground transportation and to a ferry dock that will speed travelers to downtown, the east end, St. John and the BVI. All of this would be achieved without disrupting access to gates or increasing wait times.
At the end of the prepared statements and projected graphics, all of the presenters came down from the stage and answered attendee's questions. Lemartec officials distributed information about its job fair scheduled for July 10. The company is "seeking to partner with USVI subcontractors," in various trades.
More information about the job fair can be obtained by contacting [email protected]