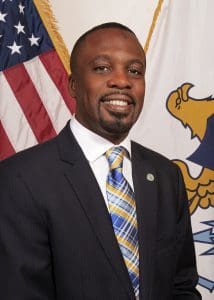 Annually, the Community Foundation of the Virgin Islands selects three students from the Charlotte Amalie High School, three from the Ivanna Eudora Kean High School and two from the Raphael O. Wheatley Skills Center to be awarded the Marvin A. Blyden Scholarship based on academic skills and submitted essays.
Sen. Blyden extends congratulations to the scholarship recipients and all graduates of the Virgin Islands. He gives special thanks to everyone who helped make these scholarships available to the students.
"You are our future and it is my hope that you all will use your education to meaningfully contribute to our community. We need young, smart minds in the government and private sector to give us a leading-edge," the senator said.
Juchara Margetson (CAHS) – $1,500
Ketura Harrigan (CAHS) – $1,500
LeeAnn Horsford (CAHS) – $1,500
Aria Rawlings (IEKHS) – $1,500
Jahkyra Margetson (IEKHS) – $1,500
Shenice Labadie (IEKHS) – $1,500
Lakesha Hillhouse (Wheatley) – $1,000
Tasha Freeman-Arnold (Wheatley) – $1,000