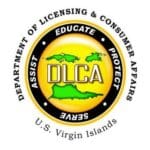 The U.S.V.I. Department of Licensing and Consumer Affairs (DLCA) notifies the public that there will be closures due to strategic planning meetings for the 2018 Hurricane Season. Note the following closure dates and times:
June 22, St. Croix District – Closed 10 a.m. to noon
June 25, St. Thomas District – Closed 11 a.m. to 1 p.m.
For answers to questions or more information, call DLCA on St. Croix at 713-3522 or on St. Thomas at 714-3522. To email DLCA, send messages to [email protected].