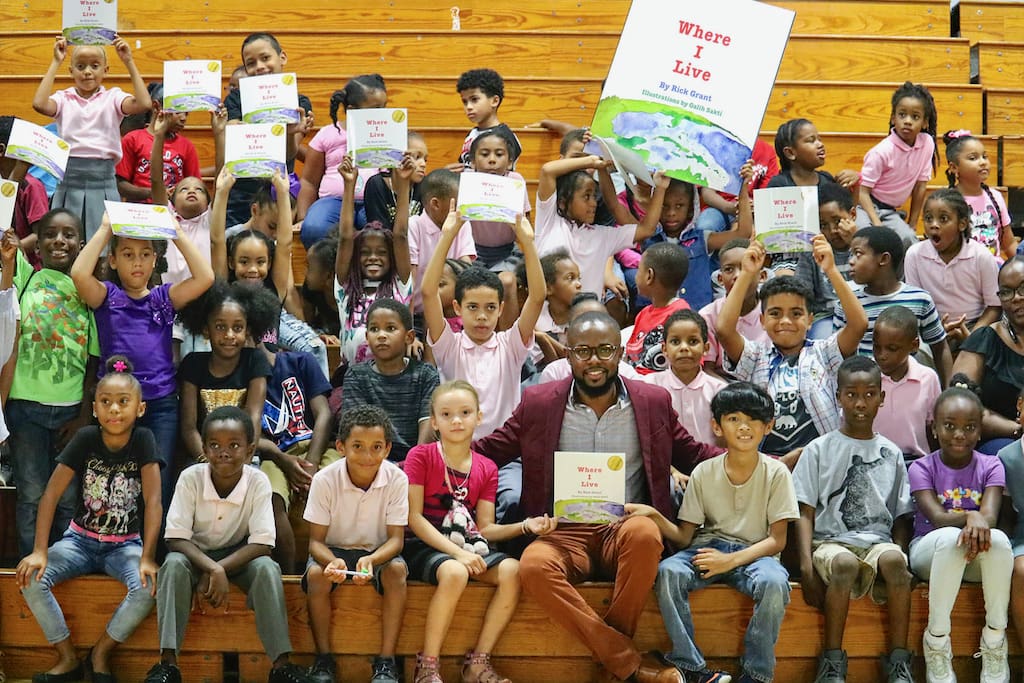 The 10th Annual Governor's Summer Reading Challenge kicked off in the St. Croix District with a pep rally Saturday for more than 400 Alfredo Andrews and Eulalie Rivera Elementary students that included guest speakers, book readings, spirited chants, and giveaways.
The program challenges students to read five or more books during the summer months.
Saturday's hour-long event took place at the St. Croix Educational Complex gymnasium and was a joint effort between the Department of Education's State Office of Curriculum and Instruction and the Office of Public Relations.
Denise Gomes, C&I program manager, led students in a chant that reminded them to read at least five books during the summer. She also instructed students to keep track of the books they read on the tracking sheet provided in their packets. The students, along with all public and private school students in the territory, received a packet containing two grade-level books, a tracking sheet and a letter from Gov. Kenneth Mapp.
Government House representative and ADA coordinator Jamila Russell also encouraged students to participate in the Challenge and stressed the importance of them reading books that include characters with special needs.
"Reading is fundamental," she said, adding, "If you read a book this summer that has children with special needs, I will personally give you a prize at the end of the summer."
Two-time Reading Challenge author Rick Grant read an excerpt of his 2018 book, "Where I Live," which highlights the places people and animals live in a playful rhyme. Grant also shared highlights of his recent journey to South Africa as part of a delegation from the University of the Virgin Islands, where he distributed copies of his 2017 Reading Challenge book to South African youngsters.
Danica David, Educational Complex High School art teacher and illustrator of 2018 Reading Challenge book, "The Vienna Cake Mystery," written by St. Croix native Charlene Joseph, encouraged students to use their imagination.
"Illustrating a book is a dream come through for me," she said. "In order for me to come up with ideas for the drawings, I had to use my imagination. You can use your imagination to do great things, too."
In between each guest speaker, students who correctly answered trivia questions about the Reading Challenge received prizes. Additionally, each student attending the rally received a book at the close of the assembly.
Dr. Carla Bastian, St. Croix District language arts coordinator, and Principals Andrea Hobson and Loretta Moorehead, of Alfredo Andrews and Eulalie Rivera Elementary schools, respectively, also offered students inspirational words about the importance of reading.
The Governor's Summer Reading Challenge runs June 4 through Sept. 21 and is open to public and private school students in grades K-6. It is designed to combat students losing critical literacy skills during the summer months.
Books provided to students from the Office of the Governor and the Department of Education are written and illustrated by Virgin Islanders or persons from other Caribbean islands.
More information on the 2018 Governor's Summer Reading Challenge is online at www.readfive.org.