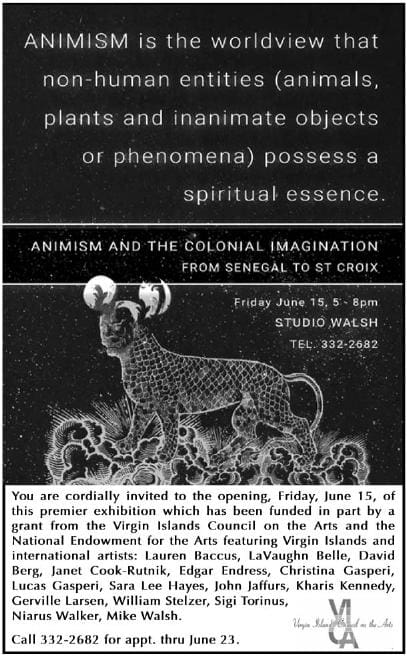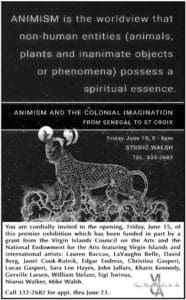 Cows, mongooses, deer, donkeys and horses are just some of the animals brought to the Virgin Islands through the process of colonization. "How and why were they brought here?" wonders St. John-based artist Janet Cook-Rutnik. "What do they mean in our society today, and how are they intrinsically bound to anxieties about race and migration?"
These questions were posed to a group of artists, and their responses will be on display Friday evening at an exhibition titled "Animism and the Colonial Imagination: from Senegal to St. Croix." The show's opening will be held Friday, June 15 at Studio Walsh on St. Croix between 5 and 8 p.m.
Cook-Rutnik, in collaboration with artists Edgar Endress and William Stelzer, organized the show after realizing the importation of animals could serve as a platform for reflections on voluntary and involuntary migrations and the effects of colonialism in the Virgin Islands.
"Artists were given free rein to examine, challenge or invert the colonial gaze when thinking about these animals," said Cook-Rutnik. Other participating artists include Lauren Baccus, La Vaughn Belle, David Berg, Christina Gaspari, Luca Gaspari, Sara Lee Hayes, John Jaffurs, Kharis Kennedy, Gerville Larsen, Sigi Torinus and Niarus Walker.
For directions or to arrange a viewing after the opening, please call 340-332-2682. The show will hang until June 23.