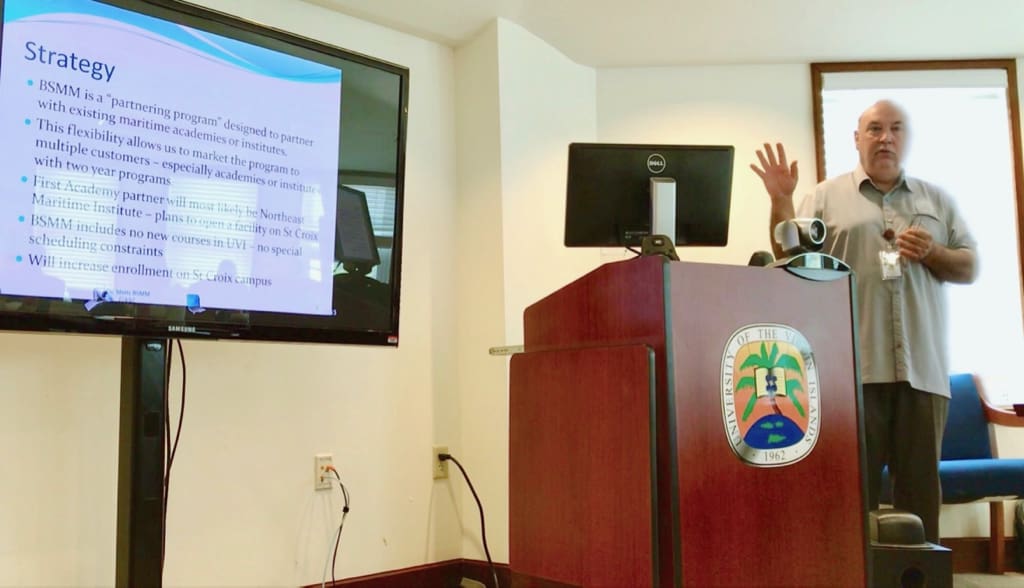 The University of the Virgin Islands Board of Trustees on Saturday unanimously approved the newest addition to its degree offerings, the bachelor of science degree in maritime management, that its creators say is a response to a changing industry.
Glenn Metts, a professor at UVI's School of Business and one of the new program's designers, said workers in the maritime industry run into a gap in education when considering new career paths on shore and find themselves needing new skill sets.
"That's what this program is designed to do," Metts said. "It's a partnering program, which means it's set up to partner with smaller institutes and academies that have these two-year programs, take their students, bring them to UVI through some mechanism … and finish taking a management background curriculum."
Students usually emerge from partner institutes with roughly 34 technical credits that they can fold into UVI's 120-credit degree program, according to Metts. The university would supply the rest of the curriculum with 45 business and management credits on top of 41 mandatory general education credits.
The university will not have to create new courses for the program. Instead the curriculum will use existing classes offered every semester on both its St. Thomas and St. Croix campuses.
UVI's new degree program has already found its first partner, the Northeast Maritime Institute, which has expressed interest in establishing a physical presence on St. Croix and is expected to ramp up enrollment on the St. Croix campus.
"I don't know that we've done a lot of this, say, taken and industry and said, 'Well, how can we make this kind of technical degree work and move it all to a baccalaureate program,'" Metts said.
The UVI board also signaled the revival of the university's stalled solar-energy project with a renewed call for requests for proposals. The three-megawatt solar panel installation that was launched in 2013, to be evenly split between the two campuses, suffered long delays and showed no sign of development almost five years later.
"There's still a need from an environmental standpoint, a need from a budgetary standpoint," Hall said, adding that the soaring cost of energy took a toll on UVI's finances. Technology in the field has significantly changed since the signing of the original power purchase agreement with New Generation Power USVI in 2013, the university president noted.
According to Hall, UVI is working with other companies to move the project forward and achieve its original energy efficiency goals, including reducing its carbon footprint by 50 percent over the next five years.
Hall highlighted the university's academic achievements, saying 'triumph' has been their keyword in the face of "a very challenging year." The university recently:
– Produced the first two graduates of its doctorate in creative leadership and innovation,
– Sent five early admission students to Boston University's medical school,
– Had one of its faculty members, Dr. Tyler Smith, appointed to one of the committees of the prestigious National Academies of Science, and
– Saw nine faculty publications and 19 presentations in national and international conferences.
"They did that despite some individuals not having offices, not having buildings, and yet they continued to perform," said Hall.
UVI continues its efforts to rebuild facilities on both campuses damaged by Hurricanes Irma and Maria, but Hall said restoration could be completed late next year.
"The projection is that by October 2019 we should have been able to restore all of the buildings that were destroyed. That is, of course, conditional on us receiving all the funding necessary from the insurance company and FEMA," Hall said.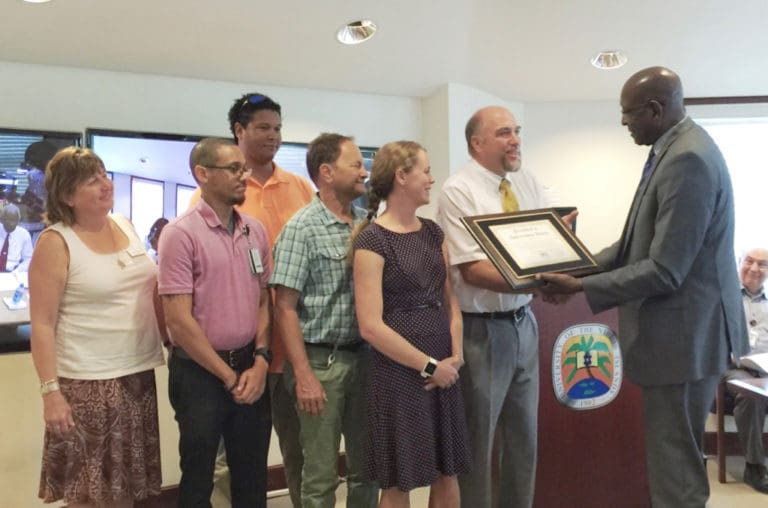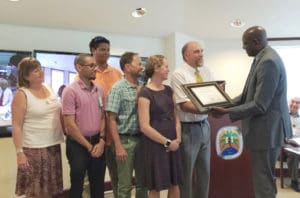 The university did see its insurance costs double over the last year as a direct result of the hurricanes – from $799,500 to $1.6 million in January. This and other budgetary changes prompted the board to approve a proposed revision its Fiscal Year 2017-2018 budget, which would authorize the administration to use some $1.1 million in vacant position salary savings to cover the budget gap. This also allows the university to break even, with a new projected expenditure of $45.12 million and a revised revenue projection of the same amount.
The board also:
– Re-elected board chairman Henry Smock and vice chairman Alexander Moorehead to their current positions.
– Unanimously approved a new case-by-case telecommuting policy that would allow qualified employees to perform their duties outside of university offices.
– Unanimously approved the reduction of credit requirements of its bachelor of science degree in business administration from 123 to 120.
– Witnessed the awarding of the Presidential Appreciation Award to the university's Center for Marine and Environmental Science.
Board chairman Smock, members Hall, Adam Parr, John Quelch, Yvonne Thraen and Jacqueline Sprauve were present on St. Thomas. Board vice chairman Moorehead and member Oran Bowry were present on St. Croix. Member Wesley Williams attended via telephone while student trustee Amiel Browne, who is attending a conference at Washington Center, was absent.