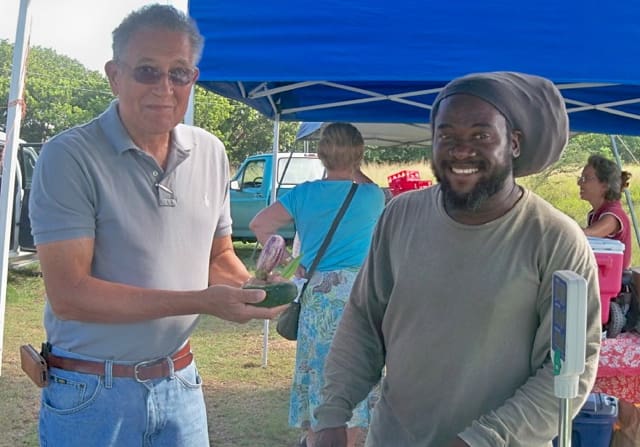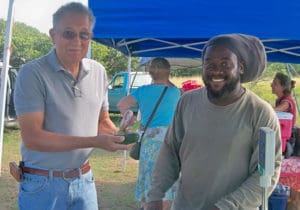 A small-acreage farmer and beekeeper and a woman raising chickens were honored at Agrifest 2018 as St. Croix's Farmers of the Year.
Agriculture Commissioner Carlos Robles called the recognition of Grantley Samuel and Linda Lacy Hodge an important gesture as the territory recovers from an historic natural disaster.
Samuel is the proprietor of GLG Plants & Produce in Lower Love. After the passage of Hurricane Maria on Sept. 19 and 20, he said his five-acre farm was devastated. He also suffered the loss of his apiary and the bees he raised as part of his business.
Hodge raises Rhode Island Red chickens. Most of those birds survived the storm, she said, because of sturdy construction of the hen house. But that by itself was not enough to spare the birds from trauma.
The pair were honored at this year's fair, Robles said, because of what each did next.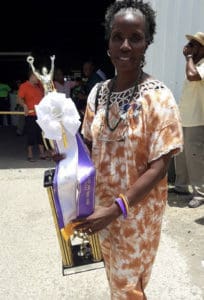 "We wanted to know what represents resilience in the agriculture community," the commissioner said.
To qualify as farmer of the year, farmers and their supporters are invited to submit applications. An Agrifest committee checks the applications to make sure they meet a set of criteria. Then winners are selected.
All of this had to be done over a shortened time frame and with fewer volunteers and staff at Agriculture, Robles said, since Maria had driven them away from home.
"Given that we were trying to minimize the amount of work we had to do; at the same time we wanted to recognize resilience," Robles said.
Normally the process would have begun weeks before the traditional start of Agrifest in February.
Samuel's win comes in the crop farmer category. His diligence to the daily task continued after Maria's winds broke the water catchment at GLC P&P, destroyed his crops and drove off an estimated 100,000 bees. As a result, the farmer of the year appeared at Agrifest with cucumbers, okra, eggplant and corn. There were also potted herbs, which sold well over the Memorial Day weekend.
Crops like cucumbers and okra represent what farmers call quick grow crops. Farmers on St. Thomas working with the Bordeaux group, We Grow Food Inc, used a similar technique in advance of the annual Rastafari Agricultural and Cultural Fair in January.
Hodge represents livestock farmers. By adding chickens to a family-run fruit tree operation five years ago, Hodge said she learned the elements of success.