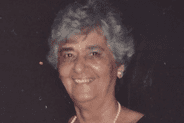 Mary A Bligh, 90, of Ithaca, N.Y., was born on April 23, 1928, and died on May 11, 2018.
Mary was born in the Bronx, N.Y., daughter of the late John Alex (Alexopoulos) and Nikki Papastrat Alex, both of Greece.  The family moved to Ithaca when Mary was in her formative years.  She was predeceased by her younger brothers: George and Peter.
Mary graduated Ithaca High School in 1946 and then worked in an attorney's office in Ithaca.  She also worked for her uncle, Peter Atsedes, at the College Spa on State St.  During that period Mary was actively involved in the Greek Orthodox Faith, raising money to purchase a building in Collegetown to establish a church in Ithaca.  She was a member of the "Daughters of Penelope," a precursor to the Philoptochs Society.  She served as a district governor of the Daughters of Penelope, which gave her the opportunity to travel to the east coast meeting with members of other district chapters.
Mary's sense of adventure took her to St. Thomas, Virgin Islands, in the '60s where she initially worked in retail.  She then accepted a job with Theodore Tunick and Company as a bookkeeper.  In 1968 Mary married William (Bill) Curan Bligh, a former professional opera singer.  Mary left insurance, and then she and Bill owned and operated Lord Rumbottom's Restaurant, which specialized in prime rib, a dish that remained a favorite of Mary's until her final days.  Bill was the chef, but Mary wore all the other hats in the restaurant.  Rumbottom's was the place to go on St. Thomas, and Mary and Bill were fortunate to welcome many dignitaries to their establishment.
After Bill's death in 1978, Mary returned to Theodore Tunick & Company where she worked until her retirement in 1997.  Having endured two devastating hurricanes, she decided to return to her family and friends in Ithaca.
Upon her return, Mary was an active member of St. Catherine Greek Orthodox Church, serving as a board member of both the Parish Counsel and the Philptochos Society.
Mary loved to travel and almost annually visited her beloved family village of Gorannous, Greece, where she had numerous family members and friends.  She maintained a home there and loved sitting on her balcony looking over the valley while enjoying a good book.  She also served as treasurer of the Worldwide Goraniton Organization.
She looked forward to her winter trips to Florida where she spent time with her cousin Voula Vites and her family, as well as her beloved friends Lucky and Gloria Congdon.  She traveled to many places in Europe, Australia, New Zealand and Chile with her loving nephew Jeff Hyatt.
Mary is survived by her first cousins: Panayotis (Christine) Stratakos and Nicholas (Dimitra) Statakos, Bus Tsambiras, Martha Pappas and Voula Vites, as well as other cousins in the U.S. and Greece.  While Mary and Bill had no children of their own, she is also survived by her loving nephews: George P. Stratakos, George N. Stratakos, Alex Stratakos; nieces: Diamando P. Stratakos, Diamando N. (Anthony) Paolangeli and Kiamando (Panos) Nikiolakakkou, as well as Gary (Kristiane) Zahakos, Randy (Sherry) Zahokos, Cory (Cheri) Zahakos, Paula Zahakos, Jeffrey Hyatt, Colleen Hytko and many other nieces and nephews.  She is also survived by her goddaughter, Carol Cameron; and special friend, James Tunick.
The family thanks Paula of Hospicare for her service, enabling Mary to stay in her home during her final days.
The funeral service was presided over by Father Michael Bahlatzis at St. Catherine's Greek Orthodox Church at 1 p.m. on Thursday, May 17.
In lieu of flowers, donations can be made in Mary's memory to St. Catherine's Greek Orthodox Church or Hospicare and Palliative Care Services of Tompkins County, N.Y.