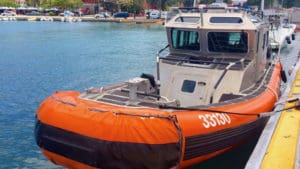 U.S. Coast Guard rescue crews are searching the waters eight miles southeast of St. Thomas for a crew member of the cruise ship MSC Seaside who went overboard early Wednesday.
According to the Coast Guard, Michael M. Majaba, 37, of the Philippines, reportedly went overboard from the seventh deck of the Maltese-flagged cruise ship at about 1 a.m. Wednesday. The ship's crew launched a search and contacted watchstanders at the Coast Guard Sector San Juan Command Center at about 4 a.m., alerting them of the situation.
Watchstanders diverted the Coast Guard Cutter Confidence, launched a 33-foot Special Purpose Craft Law Enforcement boat from Boat Forces Detachment St. Thomas and a MH-65 Dolphin helicopter from Air Station Borinquen that are currently on scene searching.
The MSC Seaside continues to search on scene. The cruise ship was traveling from St. Maarten to San Juan, Puerto Rico, when the incident took place.