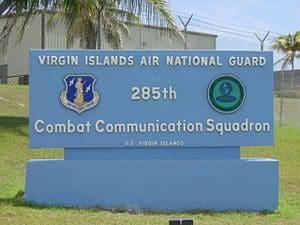 The Virgin Islands National Guard (VING) is excited about the safe return of its Guardsman from a deployment mission. The community is invited to join VING at 2 p.m., Friday, May 4, the Henry Rohlsen Airport on St. Croix for a 'Welcome Home,' gathering.
Air National Guard Staff Sgt. Darren Williams of the 285th Civil Engineering Squadron (CES) will arrive back in the territory after serving six months overseas. He departed the territory in October 2017 for Al Dhafra in the United Arab Emirates with the 380th Expeditionary Civil Engineer Squadron, 380th Mission Support Group, 380th Air Expeditionary Wing. Williams served as a civil engineer structures journeyman. He has been a member of the V.I. Air National Guard for six years.
Williams will arrive on a seaplane flight. He arrived in Puerto Rico on April 29 where he began the in-processing back to his V. I. unit through the 156th Air Wing, Military Personnel Flight Readiness, Puerto Rico Air National Guard.
For more information, contact Maj. Ryan Barry, commander, 285th Civil Engineer Squadron, at 513-0171 or email [email protected].
For information, visit www.Facebook.com/VIGuard or    www.vi.ngb.army.mil