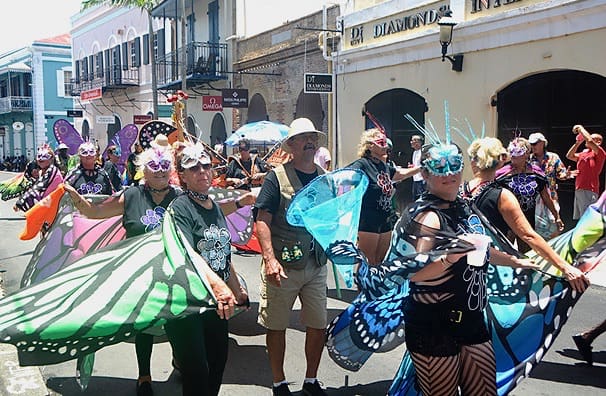 Flashing colors illuminated Main Street's asphalt at the V.I. Carnival Adult Parade rolled through Charlotte Amalie.
Adults pranced in explosions of color and sound and inextinguishable attitude. Personal difficulties in the wake of hurricane recovery were not to be seen in the sparkling eyes of butterflies and feathered dancers among the 38 troupes who thrilled a crowd of onlookers under shade umbrellas, on balconies and many willing to brave the searing sunshine.
Esonica Veira, Miss Universe contestant from the US Virgin Islands was a showstopper.
"We saw her on TV in the states and she is even more charming in person," said Richard Leeman, who was visiting from Portland, Maine.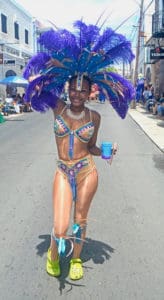 Esonica was gracious as she conversed warmly with the Leemans. When not attending to her Miss Universe duties, she devotes her time to promoting female self-esteem and getting hurricane relief supplies shipped to the territory.
The Hugga Bunch troup stunned the crowd with a performance that Elizabeth Carey from Boston, called a "Caribbean/Las Vegas whirlwind."
The troupes braved the hot weather and ultra-bright sunlight, giving off a positive attitude and what seemed to be a sincere desire to show St. Thomas's spirit at its best. Free water was offered on every corner, many of the bottles wrapped with the names of gubernatorial candidates. Orange swag from Viya was everywhere – on flying discs, cups, towels and sunglasses. Vendors in pop-up stands did a big business in local foods and rum-based concoctions.
Police officers said they were generally pleased by the crowd's behavior. While none would comment on the record, they gave off pleasant smiles when the topic was brought up.
Many road closings brought out the creativity of some drivers and parkers.
Folks trying to get up the Maude Proudfoot road were sent back and headed over Raphune Hill only to be stuck in heavy traffic due to an overturned car.