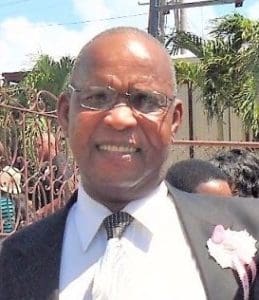 Thomas Alexander Richards, retired painter for USVI Port Authority and long resident of St. Thomas, died at the age of 77 on Thursday, March 29, in the care of the loving and nurturing nursing center, Christian City Nursing Home in Union City, Ga.
He was preceded in death by his sons: Dave Bryant Richards and Don Alex Richards.
He is survived by his daughters: Dellareese Richards-Priester and Davon Richards-Sharpe; son-in-law, Dell Priester; grandchildren: Kishma Warrell, Shalique Caraballo, Daequan Herbert, Yasmine Richards, Trenee Sharpe, Tinesha R. Sharpe and David T. Sharpe; and great-grandchildren: Amia Skymarie Caraballo, Shalique Cecilio Carballo Jr., Keyon Josiah Warrell, Kayden Isaiah Warrell, Kinsley Singleton and Jayson Aiden Belgrave.
He is also survived by sisters: Sarah Rawlins, Iris Jarvis, Adella Richards, Ursula Richards and Vincia Richards-Newton; and brothers: Sammy Richards, George Richards and Eric Richards; and nieces and nephews: Carol Rawlins-Isaac, Terry Rawlins, Jolly Joseph, Percy Jarvis (deceased), Christine Jarvis, Conrad Jarvis, Eleanora Tonge-Anthony, Dalma Tonge, Oliver Brown, Wilma Brown-Portmann, Edson Browne, Angela Richards, Jermaine Paul, Lorraine Paul-Decardes, Jamila Richards, Shanalia Jarvis and Richie Richards.
Other survivors include special cousins: Dorothy Joseph, Janet Dawn Joseph-Quamina, Geraldine Joseph -Wells, Hilarine Queenie Joseph, Charlie Prince, Christiline Ogarro, and many more relatives too numerous to mention; special friends: Lawren Florent, Latesha Florent-Isaac, Lataeya Isaac, Jada Isaac, Whitney Isaac, Daemarques Florent, Devantaye Florent, Richie Smith, Livingston Lake, Alfred Humphrey Brooks, Spencer Person, Phillip Davenport, Carol Brooks, Rosemary Brooks, Rufina Francis and Desserie Harrigan.
Relatives and Friends are respectfully invited to attend a viewing at 9 a.m., Thursday, April 19, at Church of God of Prophecy, C5 Estate Hoffman. The service will follow immediately at 10 a.m. Interment will be at Eastern Cemetery, Smith Bay.
Arrangements are under the care of Hurley Funeral Home and Cremation Center of St. Thomas, St. John and St. Croix.
For online directions and condolences please visit us at www.hurleydavisfuneralhome.com