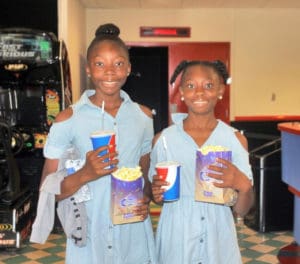 Over the weekend, children with varying abilities flocked to the "Cultivating Inclusion – Easter at the Movies" event hosted by Gov. Kenneth E. Mapp.
On Saturday, over 200 children on St. Thomas and over 250 on St. Croix on Sunday filled Caribbean Cinemas for a private screening of "Sherlock Gnomes." Students and their parents were treated to popcorn and drinks, and each student left the theater with an Easter basket of toys, educational materials, and arts and crafts supplies.
"This administration has worked and will continue to work tirelessly to change the mindset of our community so that everyone has the same opportunities to participate in every aspect of life to the best of their abilities and desires," said the governor, who is strongly committed to the American Disabilities Act (ADA) and to creating a territory that is inclusive of all Virgin Islanders, regardless of their abilities.
Virgin Islands Territorial ADA Coordinator for the Office of the Governor Jamila Russell welcomed the festive crowd with a message about the importance of working actively together as a territory to remove barriers to equality.
"Activities such as coming to watch a movie, something that so many of us take for granted, [are often] not possible for individuals with disabilities," Russell said. "Including people with disabilities in everyday activities and encouraging them to have roles similar to their peers who do not have a disability creates an inclusive community."
The reigning Carnival Prince and Princess (Jah'Syi Narcisse and Tae'Zha Maduro) as well as this year's Princess contestants (Syneece Forbes, Caricia Caesar, J'Naiya Rihanna Squiabro and Ta'Mya Davis) and Prince contender (Maike Caricciolo) came to greet the moviegoers. These talented young people will compete at 5 p.m., Sunday, April 8, in the Prince and Princess Selection Show at Lionel Roberts Stadium.