Editor's note: "Future V.I. History Makers" is series of profiles on young Virgin Islanders destined to make their mark on the world.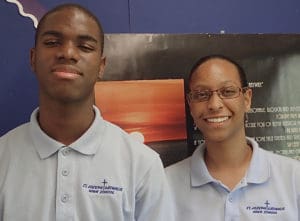 Although Kadysha Schoonmaker and Coury Hodge don't have the same goals or interests, they both are interested in the future of the Virgin Islands.
Schoonmaker is a scuba diver and hiker who wants to travel to all of the continents by the time she is 35 years old. Hodge likes internet games and videos. He is interested in pursuing a career in graphics and technology and she wants to be a veterinarian.
An important event in Virgin Islands history, according to Schoonmaker, was when Europeans came to the territory and when Denmark sold the islands to the United States.
"It changed how things operate in the Virgin Islands," she said.
According to Hodge, the Fireburn is the most memorable event because it is celebrated every year and Queen Mary is "instantly recognizable" by most people.
The St. Joseph Catholic High School seniors are bright and agree on many things, including the impact Generation Z is making on the world. Their age group is more socially inclusive and will fight for the rights of all people, Hodge said.
"More open-minded," Schoonmaker said.
She said their generation – born after 1995 – will play important roles in the advance of technology. Hodge added that television, vehicles and maybe "levitating buildings" will improve the quality of life in the future.
Both also agree that the laws regulating firearms need to be changed. Gun laws are too lax, Hodge said, and police brutality is an issue.
"This is an issue that has to be dealt with. It needs to change because this is not how you are supposed to live," Schoonmaker said.
She is concerned about violence when she attends college on the mainland and will conscientiously look for a safe environment. Currently, she is looking to study biology and forensics in preparation for vet school, at LaRoche College in Pittsburgh, Pennsylvania.
Hodge plans to study graphic design or a similar program at the University of the Virgin Islands. Eventually, he wants to own his own business building websites or creating animation and internet games. He thinks self-driving and electric cars will be the norm in the future.
As they progress into adulthood, Hodge and Schoonmaker believe the territory's future economy is based on tourism. To improve the product, Hodge wants to see power lines underground and Schoonmaker wants to see more diverse stores, including shops for Muslims.
"The government needs to get some really good people and watch how we spend money. A lot of things start and never get finished," Schoonmaker said.
Hodge and Schoonmaker also agree that they would like to experience cold weather and that neither is interested in politics.
According to Susan Weber-Stoger, a demographer at Queens College, there are approximately 60 million members of the Generation Z in America – about a million more than the previous generation known as "millennials."
Huffington Post said by 2020 Generation Z will represent 30 percent of the population.