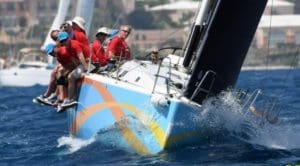 Nearly a dozen boats reveled in the mix of spectacular scenery plus tactical challenges in brisk winds and bumpy seas as the fleet sailed around the island of St. John in the 3rd Round the Rocks Race. In the end, it was teamwork powered by El Ocaso, a J122 chartered by Beaufort, N.C.'s Robin Team and his family from Caribbean Yacht Racing Ltd. that won the CSA Spinnaker 1 Class. They also earned their name on the Perpetual Trophy for Best Elapsed Time. That time was 3 hours, 32 minutes and 54 seconds to circumnavigate the 19-square-mile island of St. John.
"This is our first time sailing in the U.S. Virgin Islands, although the team has been racing together for over 35 years," said Team. "What I loved about the race today was tacking on the weather side in and out of the coves. Also, getting in close to the cliffs, where we'd get a lift. We made great strides following those lifts."
Antigua's Bernie Evan-Wong and his crew aboard the Reichel-Pugh 37, Taz, finished second in the CSA Spinnaker I class, followed by Ontario Canada's Rob Butler and his team aboard the Reflex 38, Touch2Play Racing in third. In the CSA Spinnaker 2 class, the winner was St. Thomas' Stephen Schmidt and his fellow sailors aboard Schmitt's Santa Cruz 70, Hotel California Too.
STIR 45 Sets Sail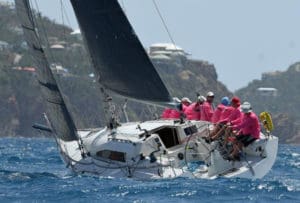 Nearly 50 boats will compete in the three-day 45th St. Thomas International Regatta (STIR), starting Friday. Last year's podium finishers will represent CSA Spinnaker Classes. In fact, the first through third place boats in Spinnaker 1 in 2017 are back to battle again. In order, these are St. Thomas' Peter Corr's King 40, Blitz; Teamwork powered by El Ocaso; and Big(gest) Trouble, St. Petersburg, Florida's Tom Elsen's Melges 32. Likewise, Touch2Play Racing's Butler's is back and looks forward to bettering their second-place finish last year in CSA Spinnaker 2.
New this year is a one-design Hobie Wave class. The beef up of the beach cat class this year is ideal since the boats are beach-able. This is something that helps ease the traffic at the dock, which is much smaller due to hurricane damage.
"Beach cat racing is very in touch with the water and is usually laid back with lots of laughter out on the course and even more on shore," said St. Thomas' John Holmberg, who has sailed a number of types of beach cats in STIR in the past and is a former Prindle 19 National Champion.
Another Hobie Wave entrant is St. Thomas' Kyree Culver. "This will be my first time skippering in a major regatta. I like the fun and friendly attitude of the beach cat sailors. I will be sailing by myself.; no crew needed on the Hobie Wave! I'm excited about the range of experience in the fleet. There will be newcomers like me and experts like John Holmberg."
Equally large at 13 boats is the one-design IC24 class, with sailors representing the U.S. Virgin Islands, Puerto Rico, St. Maarten and the U.S.A.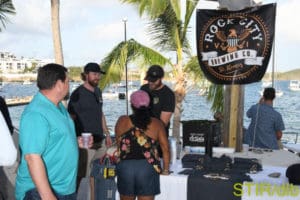 "We are looking forward to giving our best in the IC24 class competition, to support our neighboring island of St. Thomas and to have lots of fun," said Puerto Rico's Luigi Miranda, who is crewing on El Castigo del Pollo. "Our skipper, Gilberto Rivera, is an experienced IC24 and J24 class competitor with previous STIR participations. Our trimmer, Kiko Dalmau, is another experienced sailor that has participated in many international sailing championships in other classes such as Melges 32. Our foredeck, Lucas Miranda, is a young experienced sailor that has represented Puerto Rico in several international youth championships in the RS-X and Techno windsurfing classes."
STIR Racing kicks-off Friday with the first start at 11 a.m. Boats will be racing off the south and northeast side of St. Thomas around buoys and offshore islands.