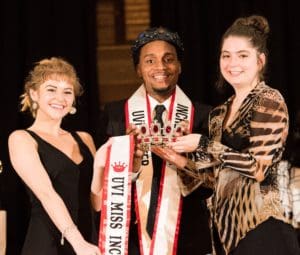 Alexandria Wozniak and Mackenzie Gross both walked away crowned Miss Incredible 2017-2018. The inaugural Miss Incredible Competition was held earlier in March in the Cafetorium on the University of the Virgin Islands (UVI) Albert A. Sheen Campus on St. Croix.
Wozniak is a junior majoring in early childhood education. She was born in Texas and is attending UVI on St. Croix. Gross, 19, is a sophomore majoring in business administration. She was born on St. Croix and is attending UVI on St. Croix.
"Juggling academics, work and pageantry was extremely difficult. Although, I did not think I could win initially, this was definitely a good reward for my hard work," Wozniak said.
"I feel proud to be named Miss Incredible, which gives me the opportunity to serve as an ambassador for my campus and the university community at large," she said.
In addition to winning the Miss Incredible crown, Wozniak won best creative introduction, best 70s wear and best intellect, which was an accumulation of scores for the introductory speech as well as the question and answer segments.
Along with the crown, Gross claimed the best performing talent, as well. Tekia Smith was named first runner-up, having won best break up line and best professional wear.
Both winners received a sash, trophy, a $500 check and an official photoshoot. First runner-up Tekia Smith received a trophy, sash and a $200 cash prize. All the contestants received a UVI gift bag with UVI Buccaneer apparel, a participation trophy and a UVI Fitness Center Pass for the fall semester.
Gross and Wozniak competed with four other contestants including:
Tekia Smith- Early childhood education major
Sierra Rivera – Psychology major
Aaliyah Parson – Pre-nursing major
Nashalis Gonzalez – Social Work major
The Office of Student Activities hosted the Miss Incredible Competition. Miss Incredible was modeled after a successful Mr. Incredible, also hosted by the Office of Student Activities, according to Kevin Dixon, coordinator of student activities.
"After hosting three successful Mr. Incredible competitions, the students requested a Miss Incredible, and we responded accordingly, to give the female students a similar platform to showcase their creative talents," Dixon said.