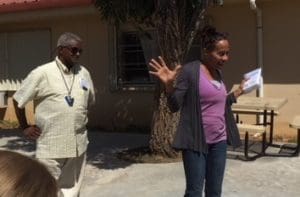 Members of the Rotary Club of St. Thomas Sunrise sponsored a mid-morning event with the student residents and staff of the St. Thomas Health Care Management (STHCM) adolescent facility, formerly known as the Sea View Adolescent Behavioral Center, on Saturday, March 17.
Rotary members brought St. Patrick's Day-themed refreshments as well as gifts for each student. The gifts consisted of framed personal photographs of students who attended a previous Rotary event and a larger photo album intended to hold pictures of future events. In addition, each student was given their own laundry bag so they could learn to wash their own clothes using the new washing machine that Rotary donated earlier this year.
As part of the program, Sunrise member Etienne Gibbs presented a mini-stress management seminar for the students and staff. His presentation taught attendees a variety of exercises that they could quickly and easily do to routinely reduce stress and increase relaxation.
Kim Bourne-Vanneck, STHCM administrator, also took the opportunity to formally recognize three outstanding students who went above and beyond the call of duty during Hurricane Irma. "These students rose above their own anxieties in the middle of the deadly storm to help evacuate patients from another area of the building while it was sustaining significant storm damage," she said. "Because these young men worked so selflessly helping others in immediate need, we dubbed them our Hurricane Heroes."
"Their efforts were recognized by National Public Radio (NPR) correspondents who were compiling information on hurricane damage. Having heard what happened, NPR requested to interview the students, which gave them the opportunity to share their story across the entire nation on all NPR stations," said Bourne-Vanneck. "We couldn't be prouder of our brave students."
Each Hurricane Hero received $20 as a token of appreciation during the morning event.