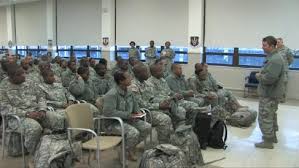 The U.S. Department of Veterans Affairs in collaboration with the Virgin Islands Office of Veterans Affairs (VA) and the V.I. National Guard will host a Veterans' Benefits Information and Claims Clinic Event.
The clinic is for veterans, service members, their families and survivors. The event will be held from 1-6 p.m., Thursday, March 15, at V.I. National Guard, Joint Forces Headquarters, St. Croix.
The purpose of the event is to provide VA benefits, information and services that include personal assistance in claims processing and inquiries. In addition, the following services will be provided: burial and memorial benefits, VBA: compensation, pension and appeals.
The Veterans Healthcare Administration will be available to provide OIF/OEF/OND Orientation, General Health Benefits Orientation and Women Health Program Orientation, eBenefits enrollment, Education Benefits, Vocational Rehabilitation and Employment, and Life Insurance (Eligibility/Enrollment).
For more information, call 774-8387.