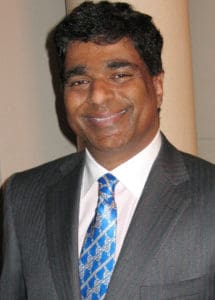 Gov. Kenneth Mapp on Friday removed Harith Wickrema from his position as chairman of the Board of Directors of the Virgin Islands Waste Management Authority, effective March 16.
In a letter Friday, Mapp cited a conflict between Wickrema's board position and his post as president of the Island Green Living Association in taking the action.
"It pains me to author this letter, but it has become apparent that your position as president and the actions you have taken on behalf of Island Green Living Association, Inc. have resulted in conflicts with your role and responsibilities as a member and chairman of the Board of Directors of the VIWMA," Mapp said in his letter to Wickrema.
The governor said while the policies of the Government and the philosophy of the Association often aligned on issues pertaining to waste management, there were occasions when they have been at odds.
"Under these occasions, you have demonstrated that the objectives and views of Island Green shall have precedence over that of the Government and, more particularly, that of the VIWMA," Mapp wrote.
In a statement released Friday, Wickrema said his efforts to solicit residents and businesses to accept mulch generated from hurricane debris was viewed as a conflict.
In a phone conversation with the Source Saturday, Wickrema said he did not realize he and gov were at odds over the issue, but he acknowledged that if one is serving "at the pleasure of the governor," one must follow his directions.
Mapp thanked Wickrema for his service to the government and the people of the Virgin Islands.
"I commend you for your tireless efforts in serving the people of the territory through the VIWMA and through Island Green Living Association. I look forward to working with you as we push to make source separation and redemption centers a permanent part of waste management policy in the territory. Thank you for your service to the Government and the people of the Virgin Islands," the governor wrote.
Wickrema replied that it has been a pleasure serving and initiating positive change at Waste Management.
Wickrema received the EPA's Environmental Champion Award in 2017 and has been instrumental in the initiation of a number of sustainable measures in the territory, including: co-authoring the plastic bag ban, source separation and container deposit legislation, and most recently the ban on burning vegetative debris.
He said he is working to make composting a permanent fixture as part of mitigation, and banning Oxybenzone from sun screen to preserve coral and marine life.