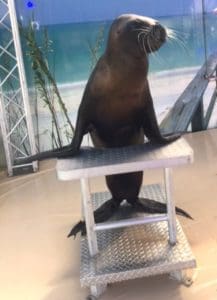 Coral World Ocean Park has announced it has received all necessary permits to allow construction to begin on its state-of-the-art, in-ocean dolphin habitat. General curator Lee Kellar said, "We expect the first barges carrying equipment and materials to arrive on March 7. Once they clear customs, they will head to Water Bay to position for construction work."
The landside Dolphin Education Center was completed about a year ago and has served as housing for a large number of employees during and after hurricanes Irma and Maria. In response to the desire of cruise lines to come back to St. Thomas as quickly as possible, Coral World staff restored Coral World to operation, according to Trudie Prior, general manager.
The park reopened on Nov. 12 and has been offering guided tours as well as several activities despite the loss of two major exhibits. It is open to all on days when it has tours scheduled on cruise ships.
Coral World expects the major components of the facility will be completed in July. Coral World has been accredited since 2015 by the Alliance of Marine Mammal Parks and Aquariums (AAMPA). According to Kellar, "The Coral World facility will meet the most stringent federal standards and AAMPA standards and guidelines."
Prior observed, "We had a top-notch marine engineering firm Moffat & Nichol review and refine our plans, so that we are confident the design of this facility is environmentally sensitive and will provide an excellent home for the dolphins."
Once the finishing touches are done, Coral World will bring the initial six dolphins allowed under its Coastal Zone Management permit to their new home. Kellar said, "We won't begin programs immediately as the dolphins will need some time to adjust. Our trainers will work with them to ensure they are comfortable in this new setting. We hope the public will be able to interact with the dolphins by late fall."
The dolphin facility is expected to provide a much-needed boost to the St. Thomas tourism product and will significantly expand the opportunities at Coral World for residents and visitors to engage with marine animals and learn from those experiences.
Since its reopening in 1998 under current ownership, Coral World has espoused the view of Baba Dioum, a noted Senegalese naturalist: "In the end we will conserve only what we love, we will love only what we understand, and we will understand only what we are taught."