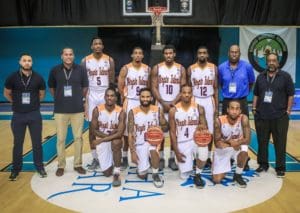 The International Basketball Federation (FIBA) World Cup 2019 Americas qualifier game between the U.S. Virgin Islands and Dominican Republic will be shown live in the V.I. only at the link provided at 5:30 p.m., Sunday, Feb. 25: https://youtu.be/ZUSJc_G3wEc
USVI lost to DR in the November window, 99-89, and is in search of avenging the early loss.
Canada won 118-89 against the U.S. Virgin Islands as part of the Group D games that are taking place at Nassau, Bahamas. Canada (2-1) was victorious for the second time in the qualifiers and have on schedule a match against The Bahamas (0-2) on Sunday. Meanwhile, USVI (1-2) suffered their second loss and now awaits a tough match against the Dominican Republic (3-0) on Sunday.
For the Virgin Islands, Deon Edwin was the most outstanding player with 23; Georgio Milligan came in second with 20. The Virgin Islanders only captured 25 rebounds and only made seven assists during the encounter. The Caribbean team was the great surprise of the past FIBA AmeriCup, when on the first date of the group it played in Bahia Blanca, they defeated Canada, 83-71.
In their first encounter in the World Cup Qualifiers, the islanders dreamed of surprising yet again, but the joy lasted 20 minutes. After a first half that was neck to neck — 53-48 in Canada's favor — the North Americans attained a distance thanks to a 12-5 advance that allowed them to pass to a double-digit advantage, 65-53.
Canada highlight package: https://www.youtube.com/watch?v=-YpvBZwJ1pw
The members of the current edition of the national team are Khalid Gerrard, Walter Hodge, LeRon Smith, Jamaal Samuel, Xavier Richards, Johnathan Gray, Deon Edwin and Georgio Milligan. The game will be broadcast live in the V.I. only at https://youtu.be/ZUSJc_G3wEc in the states ESPNU or Foxsports.
What's next: The final window of the first round is in June. The V.I. will concludes play with games in the great white north facing Canada and the Bahamas. The top three teams in the group advance to the second qualifying round. The V.I. sits in third place with a win over Bahamas, a win over Dominican Republic should guarantee a spot.