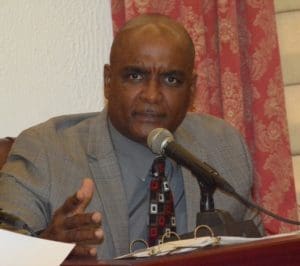 The Rotary Sunrise Club of St. Thomas scheduled a special cleanup day at Jane E. Tuitt Elementary School (JETS) on Saturday, Feb. 17. Joining the Rotary Club were Sen. Dwayne DeGraff and his staff, Principal Thelca Bedminster, teachers, students, parents and other interested individuals. In total, about 25 adults and 20 children came out to spend the morning cleaning.
For many years, the Rotary Club has worked closely with Principal Bedminster on a variety of projects and events. The cleanup day was suggested by her specifically because the school had no playground space that is not covered with asphalt. The space to be cleaned was part of a building on the school property that had not been utilized in years. Since the space hadn't been used for so long, the shrubbery had become excessively overgrown.
During a meeting last week with Sen. DeGraff, Bediminster mentioned the weekend cleanup, and the senator was very happy to assist. DeGraff contacted the Department of Public Works, which responded by sending a team of herculean workers to remove two-story's worth of bush growth and debris.
"The large trees were gone when Rotary Sunrise arrived at 8 a.m. on Saturday," said Ginny Dargan, Rotary Sunrise president. "But the area still needed a lot of work to be done to help prepare it to one day become a playground."
Rotarians from Rotary Sunrise and other St. Thomas Clubs, parents, students, and members of Senator DeGraff's staff worked for hours bundling up vines, branches, small bushes and trash. Roughly 70 large trash bags were filled and removed via a dumpster that DeGraff arranged with the Waste Management Authority (WMA) to assist the effort.
"It was amazing," said Dargan, "The dumpster arrived around 10 a.m., yet was completely filled by 11 a.m. with not only the bagged plant waste but also with large amounts of galvanize, lumber and trash that had accumulated in the space over the years."
The project was also to include painting two external walls on the school's premises. The painting portion of this project is intended to allow two walls to be painted with a substance that resembles a chalk board, so that students can use the space for a variety of activities. The cleanup project was scheduled to take place between 8 a.m. and noon. It took the entire morning to remove the old paint and by then most volunteers had left the school property, so the decision was made for the remaining paint-based portion of the project to occur at a future, not yet scheduled date.
Rotary Sunrise contributed manpower, cleaning supplies, painting supplies, water and snacks; people brought their personal equipment (rakes, machetes, pick axes, shovels, etc.) to do the work.