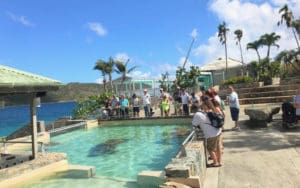 There really was nothing "environmentally friendly" about the heavy blow Nature dealt to St. Thomas' premiere eco-tourism attraction last September.
Hurricanes Irma and Maria were decidedly hostile to Coral World Marine Park, causing an estimated $2 million in physical damage, forcing it to release much of its marine life and resulting in its closure for months.
But if you're a leader in the eco-tourism movement, you have to take the bad with the good – and for Coral World's curator Lee Kellar, that includes tropical cyclones.
"These are part of our existence here in the Caribbean," he said in an interview last week. "We learn from them all and we get better."
Coral World began offering very limited service for cruise ship tours in November but didn't reopen to the general public until the end of January. It still continues to rebuild and revamp some of its exhibits.
To give an idea of the progress it has made, Kellar shared a bit of its hurricane experience.
"Coral World – like many others – got hit really, really hard," he said. "We lost our Marine Garden building … we lost our bird aviary … we lost the roof on the Blue Water terrace," the open air space that has hosted countless community events over the years.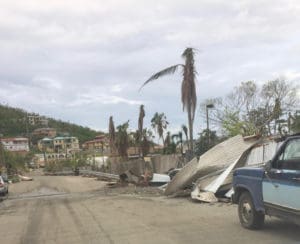 Also lost: a lot of solar panels, trees including landmark coconut palms, some hurricane shutters, bushes and other landscaping.
More importantly though, "All of our animals and people made it through the storms OK," Kellar said. "We were truly blessed … it could have been so much worse."
Also on the plus side, the park's centerpiece, its underwater observatory, suffered some damage but "remarkably" survived.
So did the relatively new Dolphin Education Center.
"It was built to withstand Category 5 hurricanes," Kellar said.
It contains two apartments, one for Kellar and his family and one that serves as a dorm for four interns who rotate in and out of the program each semester. The center opened in the spring of 2017, so the fall storms were a "trial by fire" that proved the building's soundness.
In fact, it served as a shelter for some on the park's animals and a lot of its staff.
A dozen people sheltered in the center during Irma. Some stayed and more moved in after that hurricane because their homes were badly damaged.
"When Maria hit, (two weeks later) we had 24 people living in that building," Kellar said.
There were also assorted animals, including five sea lions and 15 lorikeets that had been moved from the aviary to the safer area.
"We sort of felt like we were living in Noah's Ark," he said.
The human guests soon evolved into a mini-community. Everyone had an assigned task, be it cooking, laundry or other service. People stayed until their homes were repaired or they could find new homes.
"I think it was Dec.31 when the last people left," Kellar said.
In the wake of the storms, Coral World released more than 200 marine animals to the waters around the park, including lobsters, tarpin and many other fish. Some, like the sting rays, were released before Irma hit. Others, most notably the sharks, were released after because of damage to the park.
"It was definitely better for them to be out in the ocean," Kellar said. "Releasing sharks is something we do on a regular basis," he added.
The park promotes efforts to rehabilitate the shark's image, introducing visitors to young sharks in a neutral setting. Once the animals grow to about four feet, they are tagged and released.
It's one of many environmental and preservation programs Coral World encourages. It has partnered with national and local ecology groups including the National Marine Fisheries Service, the Nature Conservancy, Fish and Wildlife, and the West Indian Marine Animal Research Conservation Service. It has contributed to various research projects, coral monitoring, beach clean-ups and other community efforts. Additionally, it has frequently helped injured wildlife brought to the park, housing, healing and then releasing everything from sea birds to turtles.
The park has already replaced its sting rays and some of the other animals, though not its sharks. Right now, turtles are being housed in the shark pool.
There is still a lot of reconstruction to do too.
Initial work at the park was slow in part because access to it was very difficult. The Coki Point Road (leading past Coki Beach and on to Coral World) was closed to the public for months.
"It was pretty dicey there for a while," Kellar said. Coral World had to hire people to lift downed power lines from the road and allow trucks to make deliveries of diesel needed to run generators.
"It took them a little while to get out there" to cut poles and clear the road of debris, he said, adding the road has been officially open only since about mid-December.
The government and the cruise industry were instrumental in getting another popular St. Thomas destination, Magens Bay Beach, back in operation. But Kellar said Coral World has not received any financial assistance. He's just happy with the moral support and the tourists that cruise lines are bringing to the park. It's uplifting to see people enjoying the animals and enjoying themselves.
"It's been a healing process, not just economically, but emotionally," he said. "We thought is was important to reopen and we're happy we did."
For now, the park is open only on days cruise ships are in port. But it has lowered its fees in an attempt to lure more local traffic. Admission for visitors is $10 for adults, $6 for children. With local ID, those rates drop to $6 for adults and $4 for children.
More information, including rates for special programs such as SNUBA dives and the "Comeback" tour, are online at www.coralworldvi.com or by calling 340-775-1555.