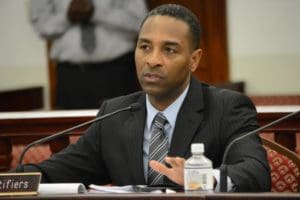 Virgin Islands Attorney General Claude Earl Walker has signed onto a letter authored by Pamela Jo Bondi and Josh Stein, attorneys general of Florida and North Carolina, urging the U.S. Congress to end mandatory arbitration in sexual harassment cases.
Congress is considering passing such legislation, prompting Bondi and Stein to invite Walker and other attorneys general in the United States to inform Congress of their support.
In a brief statement, Walker expressed his approval for the action.
"We have to ensure that sexual harassment victims have their day in court, as too many of these cases are settled behind closed doors due to one-sided, binding arbitration provisions in employment contracts, leaving sexual harassment matters to be resolved by arbitrators instead of courts of law," Walker said.
Walker believes that such legislation will bring relief to many victims in the U.S. Virgin Islands.
"Many sexual harassment victims are unaware that they are legally restrained by arbitration provisions until they are victimized and try to enforce their legal rights," he said. "If Congress enacts such legislation, then in the Virgin Islands, sexual harassment victims – the majority of whom are women – will have access to Virgin Islands courts to seek the proper relief from judges who are trained to handle such matters and not be re-victimized by arbitration requirements."
The letter to Congress says, "Congress today has both opportunity and cause to champion the rights of victims of sexual harassment in the workplace by enacting legislation to free them from the injustice of forced arbitration and secrecy when it comes to seeking redress for egregious misconduct condemned by all concerned Americans. We are aware that the Senate and House are considering legislation to address this issue. Whatever form the final version may take, we strongly support appropriately-tailored legislation to ensure that sexual harassment victims have a right to their day in court."
The petition also noted that "these arbitration requirements often are set forth in clauses found within the 'fine print' of lengthy employment contracts. Moreover, these clauses typically are presented in boilerplate 'take-it-or-leave-it' fashion by the employers."
According to the news release announcing Walker's signing of the letter, some major U.S. corporations – the most prominent being Microsoft Corporation – have recently eliminated mandatory arbitration requirements for sexual harassment claims. Brad Smith, president and chief legal officer of that giant technology company, said settling sexual harassment cases out of court allows perpetrators to continue their conduct for many years.
"Because the silencing of voices has helped perpetuate sexual harassment, the country should guarantee that people can go to court to ensure these concerns can always be heard," Smith said.
The proposed sexual harassment legislation, which was precipitated by the recent spate of sexual harassment allegations against executives, legislators, prominent artists, news anchors and film makers, is designed to prevent such harassment in the workplace.