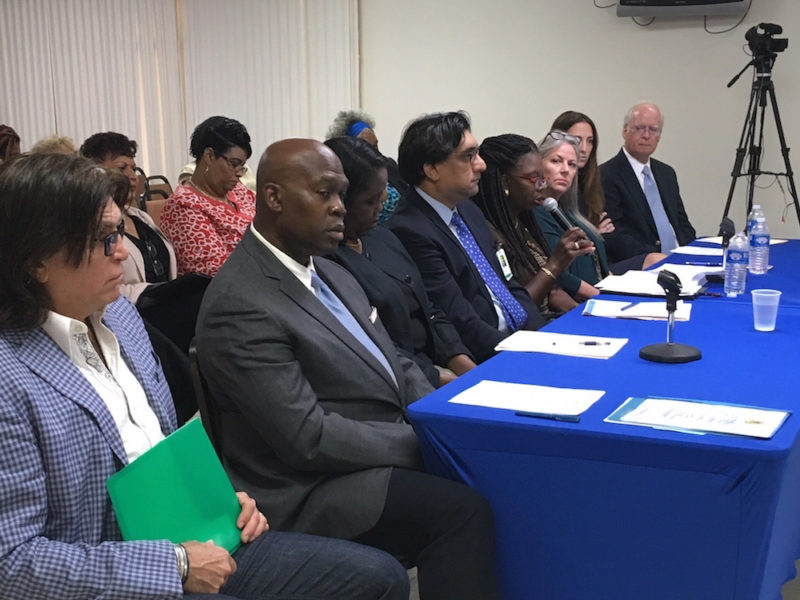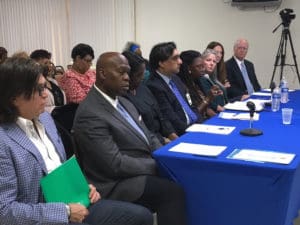 Members of the Senate Committee on Health, Hospitals and Human Services on Thursday strongly urged the Department of Health to approve a certificate of need for an additional health care facility on St. Croix, and Health Commissioner agreed to review the application.
Testifying before the panel, Jacquelyn Rhymer-George, chief financial officer for Frederiksted Health Care, Inc., told the senators that the organization applied last May to expand medical, dental and behavioral services to a Sion Farm location but has not received a reply from the DOH and was recently told all applications were on hold.
According to Rhymer-George, FHC treats 10,000 low-income residents on St. Croix and anticipates another 3,000 patients with the new facility.
"Why not approve the FHC expansion," Sen. Kurt Vialet asked Davis. Sen. Sammuel Sanes said, "Expedite it."
"If anything comes out of this hearing, we can provide services Monday morning," Sanes said.
Davis finally agreed, at the end of the hearing, to review the application with the intention of approving it. Senators and spectators applauded.
The topic of the meeting was ostensibly to cover the Medical Assistance Program, but committee members spent much of the time expressing their frustration about the continuing problems with the Health Department, DHS and the two hospitals.
"We've known these problems to exist for decades. And while we've known they exist, we have not been able to get any traction on addressing them," Sen. Nereida Rivera-O'Reilly, committee chairwoman, said.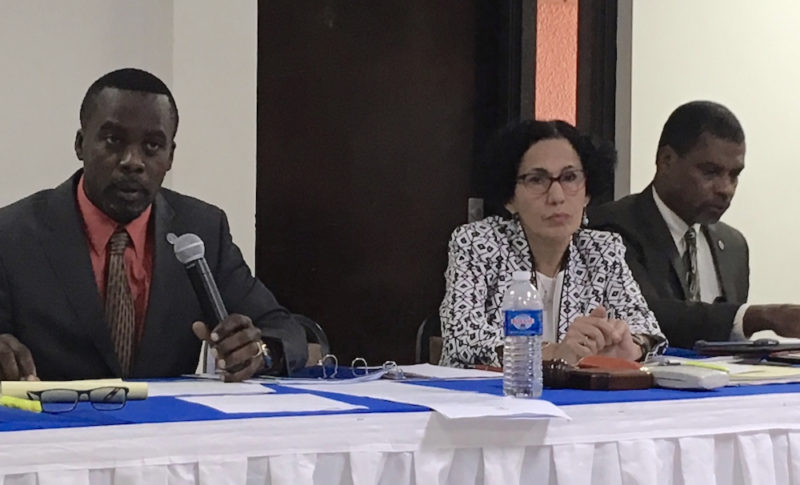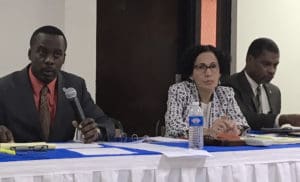 Medicaid is the federal program administered and funded jointly by the federal government and individual states under guidelines established by the U.S. Centers for Medicare and Medicaid Services (CMS.) It provides health coverage for low-income residents and is the single largest source of health coverage in the United States.
MAP is managed locally by the V.I. Human Services Department, which did not send representatives to the hearing at the Superior Court on St. Croix. Senators expressed their frustration at being ignored.
"They (DHS) think they will out wait us or outdo us, but that is not the case," Rivera-O'Reilly said.
"The DHS commissioner continuously refuses to appear," Vialet said while pointing out the department has not filled vacant positions, including someone at the hospital to register patients who could qualify for Medicaid.
Rhymer-George said there are 18,000 MAP clients and according to Executive Director Moleto Smith, of the St. Thomas East End Medical Center, half of its 9,000 patients are MAP recipients.
In written testimony, the other testifiers representing the government supported and private institutions agreed with Dr. Jeffrey Chase, of the Association of Hospital Employed Physicians, that MAP was "far better off than it was in the past."
At the same time, complaints such as delays in referrals, enrollments, payments and even dissimilar procedures on St. Croix and St. Thomas were said to be routine. Senators frequently nodded in agreement – it is old news, they said.
At one point, Rivera-O'Reilly asked if DOH would take on managing MAP and Davis responded affirmatively.
No representative from the Schneider Regional Medical Center spoke at the hearing, but several representatives from the Gov. Juan Luis Hospital provided testimony.
Deepak Bansal, JFL's chief financial officer, said the facility has difficulty collecting reimbursement funds from MAP. In 2017, charges were more than $43 million and a little more than $4 million was recovered. The last payment was in May, 2017, he said.
Chase's concerns also included the DHS delays in electronic enrollment and said that less than one third of newborns at SRMC the have been enrolled in MAP and the Children's Health Insurance Program, although most infants would be eligible. The MAP database is not being updated quickly enough to confirm enrollment, he said in his written testimony.
MAP payments have been sporadic and late, according to several testifiers, and barely cover the cost of services rendered. Moleto Smith, of the St. Thomas East End Medical Center, said the facility is owed more than $890,000 by MAP and the reimbursements count for more than half the facility's net patient revenue.
Rhymer-George said MAP covers 63 percent of FHC patients, 17 percent are uninsured and the remaining 20 percent have Medicare or private insurance.
Another discrepancy with the system is the inequity of the federal program towards V.I residents. Rhymer-George pointed out that the Medicaid/MAP required match is much higher for the Virgin Islands than most states and is determined by per capita income which is lower than mainland requirements. States with similar average incomes as the territory pay around 18 percent of the bill. However, the Virgin Islands is required to match 45 percent – the same as New York. Additionally, Virgin Islanders with incomes of $11,000 qualify, but stateside residents qualify with annual incomes as high as $22,000.
Davis said there has been an increase in Medicaid patients since the September hurricanes, but warned there will be less federal assistance available after September 2019.
Other complaints included:
– MAP does not allow X-rays at providers' offices, only hospitals, Chase wrote. Internet connectivity problems cause delays in treatment, especially for patients with broken bones.
– Medicaid no longer pays for Haldol injections, used to treat mentally ill and homeless patients. Haldol is an inexpensive treatment, according to Rhymer-George, and she didn't understand why it was discontinued.
– Dr. Jan Tawakol, medical staff president at JFL, said it can take as long as a year for physicians to be credentialed by MAP.
– MAP has rejected claims for FHC patients, saying they are not members because the DHS file had not been updated to reflect membership.
– Oncology patients are referred for off-island treatment because MAP doesn't cover chemotherapy and there is no radiation oncology in the territory. Dr. Elizabeth DelGiacco testified she treats all cancer patients regardless of insurance and believes the three V.I. oncologists would do the same if chemotherapy was covered by MAP.
– According to Dr. Carl Maschauer of the Vision Center, patients on St. Croix are instructed by MAP to go to Charles Harwood Hospital or FHC for eye exams for coverage while St. Thomas patients can only be seen at doctors' offices.
– Although Medicare and Medicaid cover some home health and hospice care on the mainland, Tracy Sanders of Continuum Care said her company cannot continue to carry the full load and provide uncompensated care indefinitely.
Sean Coursey, of Clinical Laboratory on St. Croix, presented positive testimony about dealings with V.I. MAP. He said the application process was thorough and efficient and since then it has been "a true win-win relationship."
Rivera-O'Reilly said the committee will meet again with stakeholders and suggestions will be put in a bill by May.