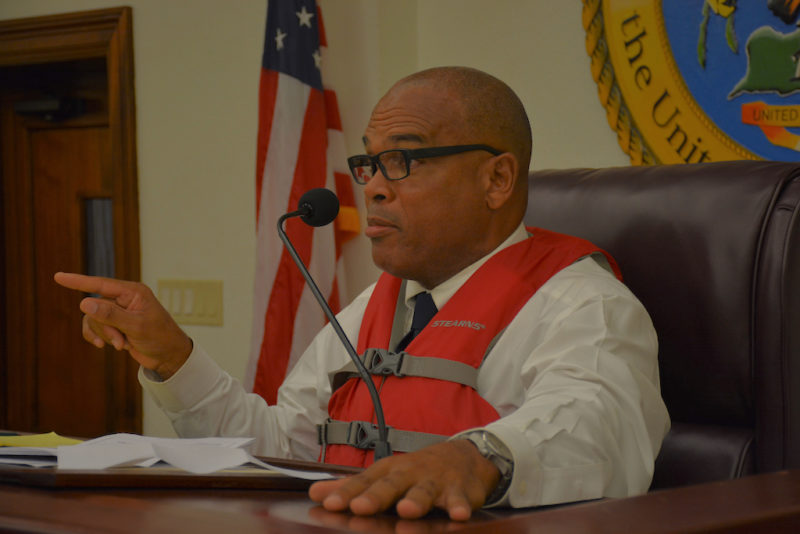 The fall storms caused the loss of the entire administrative office and severely damaged the newly renovated kitchen at the Golden Grove Correctional Facility on St. Croix, Assistant Bureau of Corrections Director Everett Hansen told the V.I. Legislature Friday.
The Alva A. Swan Annex and the Franklin Building on St. Thomas also experienced structural damage, he said. Currently, meals for St. Croix inmates are prepared off-site. Housing units at Golden Grove also sustained excessive roof and water damage. Structural engineers have completed their assessments, along with debris removal completed by the Department of Public Works and await the necessary approvals to repair the facilities, according to Hansen.
Few prisoners currently reside at the Golden Grove facility, with most inmates now incarcerated stateside. That move was partly to allow the BOC to renovate its facilities and meet court orders to improve conditions. It also saves a lot of money at a time when the territory is facing severe budget shortfalls.
BOC officials testified at a hearing early last year that a of December 2016 there were 257 Virgin Islanders in stateside prisons and only 52 inmates still on St. Croix, well before the fall storms damaged the prison. Those remaining were workers employed by BOC or performing jobs in the community as part of the work-release program. The cost of keeping prisoners stateside is about half the $150 a day per prisoner it costs locally, officials testified at the time. That means keeping those prisoners stateside saves about $7 million in V.I. government funds per year.
Warden Gilbert David of the Criminal Justice Center in St. Thomas said the agency recently had five employees resign after the hurricanes and suffered the loss of Sgt. Ishmel Harrigan, who worked with the Bureau of Corrections for 17 years. Harrigan died at home during Hurricane Irma, protecting his family, he said.
Hansen said a partnership exists between various agencies currently training officers as corrections officers to curb their staffing challenges.
The Homeland Security, Justice and Public Safety Committee had planned to hear post-storm updates from the National Guard and V.I. Territorial Emergency Management Agency but officials from those agencies did not appear. The committee voted to subpoena those officials to appear. Sen. Janelle Sarauw (I-STT) and others said they were troubled that many V.I. National Guard members had not been paid for work in October, November and December. The delay is due to delays processing paperwork documenting the increase in hours, both through the V.I. Finance Department and the U.S. government, according to V.I. National Guard spokesperson Master Sgt. Karen Williams.
Senators also wanted to speak with VITEMA officials about the recent tsunami warning. VITEMA sent an alert announcing the cancelation of a NOAA tsunami warning but not about the initial warning itself. (See: "VITEMA's Tsunami Advisory Came a Little Late" in Related Links.)
V.I. Territorial Emergency Management Agency's Director Mona Barnes received a tsunami advisory at 10:59 Tuesday night, but due to "connectivity" Virgin Islanders were not alerted until after midnight. By the time the alert went out, it was accompanied by a notice canceling the alert.
Barnes said at a news conference Wednesday at Government House that internet connectivity had not been re-established at the home of the individual who should have issued the advisory. The person drove to VITEMA headquarters in Christiansted to send the alert.
The territory installed 42 tsunami sirens over the past several years, but none of them have been active since the storms.
Committee chair Brian Smith (D-At Large) wore a life vest to the hearing and said he needed it in case there was another tsunami that he did not hear about from VITEMA.
Committee members present were: Sarauw, Smith, Sens. Novelle Francis (D-STX), Jean Forde (D-STT), Positive Nelson (ICM-STX) and Alicia "Chucky' Hansen (I-STX). Non-committee member Sen. Janette Millin Young (D-STT) also was present.