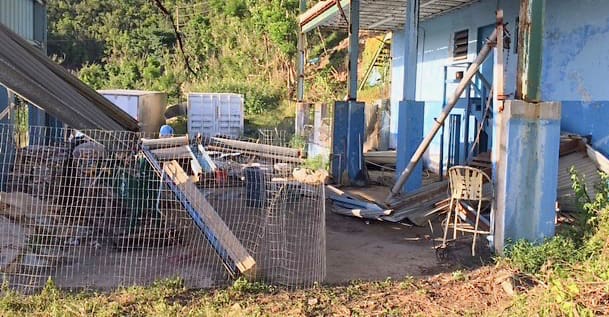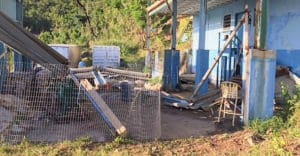 The ReSource Depot on St. John operated by the Island Green Living Association has lost its lease and will close Saturday at the end of the workday.
Because the group's new location is nowhere close to being ready for occupancy, volunteers will give away everything now stored in seven containers to anyone who asks, between 7:30 a.m. and 12:30 p.m. Friday and Saturday.
The ReSource Depot was the brainchild of Island Green Living Association (IGLA,) an organization of volunteers working to create a resilient and sustainable future for the Virgin Islands. The depot is directly across the road from the Susannaberg Transfer Station at the junction of Centerline Road and Route 104.
One of IGLA's goals is to reduce trash in the landfills. In addition to operating an aluminum can recycling center, the ReSource Depot has served as a location for re-purposing valuable used goods such as furniture, toys, clothes, and construction items.
"Every dime we have made goes right back into what we're doing," said IGLA board member Gary Ray.
Ray said shortly before the hurricanes, IGLA signed a lease to take over the old VITEMA warehouse, a dilapidated building next to VITEMA's headquarters adjacent to the Susannaberg Transfer Station.
"We have solid connections with the V.I. Waste Management Agency and the V.I. Government," said Ray. "We're trying to work with them to get the parcel cleared. We're doing our best to move forward, but the hurricane aftermath has slowed us down."
He said a damaged trailer on the premises is one of the obstacles preventing IGLA from moving in.
"It will take the largest crane on wheels to move it," he said.
IGLA plans to purchase its own containers and get the ReSource Depot back in business, and build a sustainability center at the site once it's cleared, but Ray couldn't predict when that would happen.
"If more people volunteer, it will take fewer months," he said.
In the next few days, ReSource Depot manager Gerry Londergan is doing what he can to de-commission the old site, and on Friday and Saturday, everything must go.
Electricity
Joe Robinson of the Bloomberg Group said Wednesday that 95 percent of the homes and businesses on St. John that are structurally ready to receive power have been energized. Robinson spoke at the Wednesday morning VITEMA briefing held at the National Park Service headquarters in Cruz Bay.
Power restoration on St. John has exceeded the average for the territory, said Robinson.
"I've been told the rate throughout the Virgin Islands is 87.5 percent," he said.
Deputy Fire Chief Ernest Matthias said homes as far east as Salt Pond are now on WAPA power.
Many of the familiar faces that regularly brief residents at the weekly meetings were absent on Wednesday, including VITEMA's Irvin Mason, who has served as the meeting facilitator and VITEMA's spokesperson on St. John since shortly after Hurricane Irma struck on Sept. 6. Mason announced last week that he expected to be deployed on St. Thomas starting in January.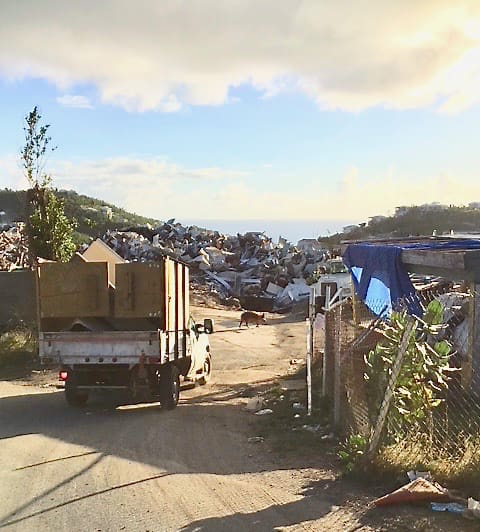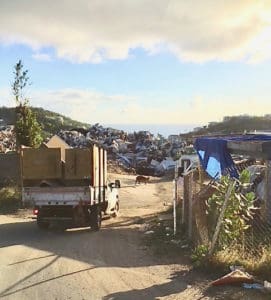 FEMA Public Assistance Deadline
Friday, Dec. 29 is the last day for government agencies and private non-profit charitable groups to apply for FEMA's Public Assistance Program, according to FEMA project specialist Valerie Hayes.
Hayes said the Department of Planning and Natural Resources has applied for assistance to mitigate mold and water damage at the Elaine I. Sprauve Library on St. John, and for their nearby St. John office building, which sustained more serious damage.
"The library fared fairly well," Hayes said. "FEMA has completed an on-site inspection and is getting estimates for mold remediation." She could not offer an estimate on when the library would reopen. "There are only two companies licensed and certified for mold inspection in the territory," she said.
Further information on eligibility for public assistance is online at the Public Assistance Program and Policy Guide on FEMA's website, https://www.fema.gov/public-assistance-policy-and guidance.
Questions can also be submitted by calling Renata Christian-West at 340-774-2244 or sending her an email at renata.christian@vitema.vi.gov, according to a news release.
Individual Assistance and Legal Advice
Jan. 8 is still the deadline for individual assistance for disaster survivors on St. John.
FEMA officials announced that 2,819 household St. John have registered for FEMA assistance, and slightly more than $5 million have been distributed to island residents as of Tuesday.
FEMA continues to offer storm-related legal advice for the next two Saturdays at the Disaster Recovery Center located behind the Legislature Annex in Cruz Bay.
The official hours of service for legal advice are from 10 a.m. until noon, but last week attorneys ended up staying past 2:30 p.m. to assist nearly a dozen residents who showed up with legal problems generated by the hurricanes.
"We want to give thanks to the Young Lawyers Division of the Lawyers'Association," said one FEMA official.
FEMA Has Job Openings
FEMA is looking to hire additional Virgin Islanders to help with hurricane recovery, according to a news release.
Positions are available on all three islands.
"Applicants with college degrees and/or skills in accounting, planning, analytics, statistics, writing and editing, environmental science, and construction engineering are highly desired," according to the release. Resumes can be sent by email to FEMA-DR4340USVI-LocalHires@fema.dhs.gov. Applicants can also apply through the V.I. Department of Labor at www.vidol.gov.
Red Cross
The Red Cross is looking for volunteers to be part of a new long-term recovery group on St. John, according to Gail Shazor of Red Cross Disaster Services.
Shazor said Red Cross staff members on St. Thomas were contacted last week after a fire was reported on St. John, but they were unable to get to the site because ferry service had stopped for the night.
"We want to be timely," she said.
When Hurricane Hugo hit in 1989, and again when Marilyn devastated the islands in 1995, the Red Cross had ready a corps of trained volunteers to deal with the aftermath of the storms. Over the years the number of committed volunteers has dwindled. This year most of the shelter volunteers were community members who had no disaster training but stepped up after the storms to lend a hand.
Long-Term Recovery Team
The entire community is invited to participate in a meeting to choose board members for a St. John long-term recovery team. The election will be held at 5 p.m. Thursday at the third floor of the Marketplace.
The team is made up of members from non-profit organization, faith-based organizations, government agencies, and NGOs from off island, according to Celia Kalousek of the St. John Community Foundation. Known informally as the Angel Network, it will provide coordinated management of the long-term recovery for residents and offer support of all kinds – physical, spiritual, emotional, and financial – to those affected by the hurricanes.
Since it was created a month ago, the team has broken into eight working groups, each of which focuses on a particular aspect of recovery, including health, donation coordination, and housing construction.
The St. John Community Foundation is also working with Volunteer Organizations Active in Disasters (VOAD,) volunteers from off island who want to assist in the recovery, according to Kimberly Grisham, a voluntary agency liaison for FEMA.
Officials are seeking a building that can accommodate between 10 and 20 cots for volunteers from off island who may come to help residents rebuild their homes.
Coast Guard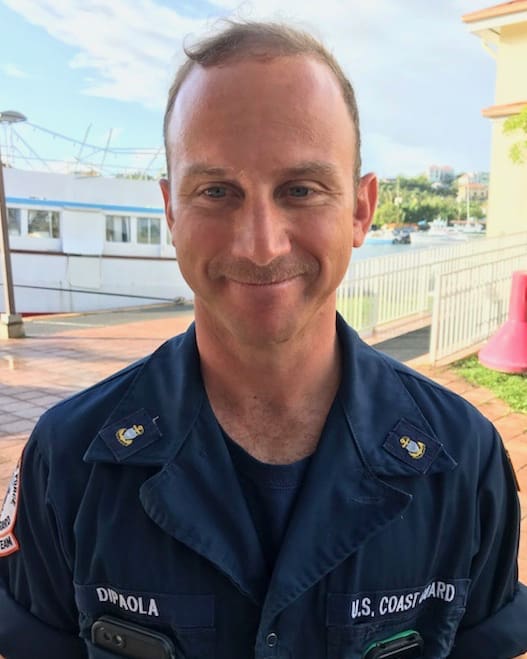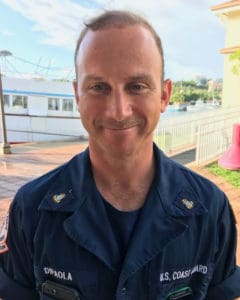 At the end of Wednesday's meeting, St. John residents were introduced to Jacob DiPaola, the chief deputy branch director, who will head up operations on St. John for the next several weeks.
The Coast Guard has been working with boat owners who have applied for "special consideration," which amounts to free salvage assistance. "It's the hardest work, but the most satisfying," said DiPaolo. "You get to see the direct result" of your service.
Public information officer Buddy Dye said boaters can still apply for assistance, although the deadline has passed. He said some boat owners may be afraid to come forward, thinking they will be fined. They won't be.
Ferries and Barges
The Mister B, St. John's largest car barge, owned by Boyson Inc., is on its way to New Orleans for repairs.
Two passenger ferries, the Caribe Time and the Caribe Cay, are awaiting results of insurance claims before they can be shipped to New Orleans for repairs, according to Loredon "Bucky" Boynes Jr., president of Transportation Services.
"With the extent of the damage, they can't be repaired here," said Boynes.
Transportation Services' one remaining ferry, the Caribe Tide, was pulled out of service for maintenance several times in the last couple of weeks. Varlack Ventures, the other passenger ferry company, picked up their runs.
The ferries are still running on a limited schedule, with the last ferry now leaving Red Hook at 8 p.m. instead of midnight. Boynes said the light at Stevens Cay, which is important for navigation, has not been replaced, and not all the lights at the Cruz Bay dock are operational.
Boynes said the company has tried not to lay off any of its 35 employees during this period of limited service, but is giving everyone "a little piece of work."
Transportation Services has moved its office from Wharfside Village, which was severely damaged by the storms, to a wooden cottage located across the street from the Catholic Church. That spot has special significance for Boynes.
"It's my birthplace. I was born in this house," he said.
Soup Kitchen Back in Operation
Catholic Charities of the Virgin Islands is operating a soup kitchen out of the meeting hall of Our Lady of Mount Carmel Catholic Church (OLMC) in Cruz Bay on weekdays.
Breakfast is served at 9:30 a.m., and lunch from noon until 1 p.m. Bagged lunches are also being delivered to the fire station in Coral Bay, according to Simonia Dagou, administrative assistant at OLMC.
Shared content for Virgin Islands Source and St. John Tradewinds.