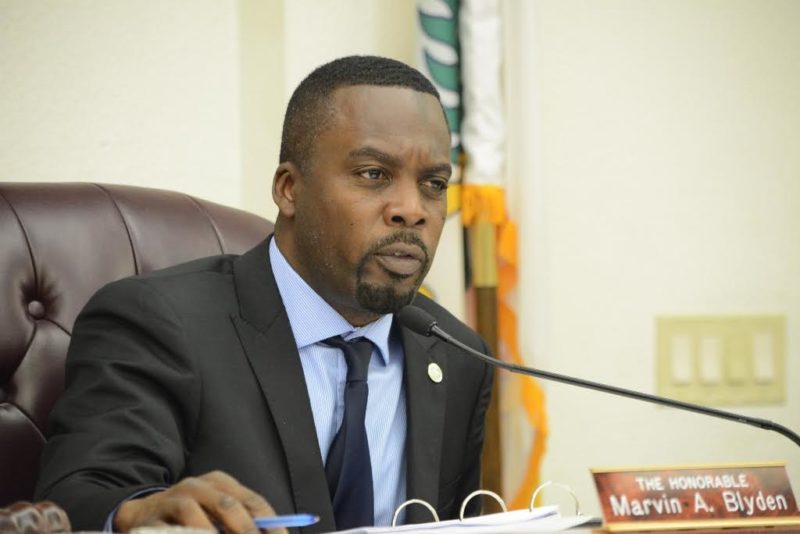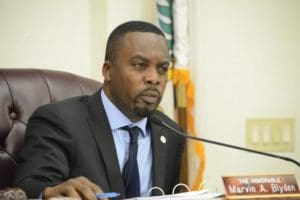 Senators and testifiers at a Wednesday Senate committee hearing agreed that the housing situation in the U.S. Virgin Islands was not good before the back to back hurricanes in September – and now it is worse.
"Before the storm we had a mental health crisis, now it's worse," Sen. Janette Millin Young said. "We can't have people going crazy because they don't have a place to live."
Sen. Marvin A. Blyden, chairman of the committee, emphasized the need for emergency housing.
"It hurts my heart that we don't have any emergency housing in the St. Thomas-St. John District. This is unacceptable. There are no homeless shelters or transitional housing on St. John for displaced residents. Residents who are homeless on St. John are relocated to housing on St. Thomas," Blyden said.
A report from Continuums of Care, which conducts every-other-year counts, showed the homeless number jumped from 252 in 2015 in the territory to 307 in January 2017. That increase does not reflect the number of people who lost homes in the hurricanes.
Robert Graham, executive director of the Virgin Islands Housing Authority, said his agency has been helping public housing residents secure their dwellings, find other apartments or other locations to live.
When questioned by Sen. Jean A. Forde whether some of that new housing was nothing but "four walls and a roof." Graham replied that description was accurate in the immediate aftermath of the storms, but no longer.
Graham testified that 97 families had been rehoused in the territory, 48 from the Tutu-High Rise. Graham said Tutu High Rise, which was once home for 300 families, is destined to be demolished. Fifteen families still live there, but housing is being sought for them. Government officials had urged the evacuation of the high rise before the storm. A woman who remained in the high rise was killed.
The Public Housing Authority has just a little more than 3,000 apartments in the territory. About 2,700 are occupied. Graham estimated that repairs to the public housing projects from hurricane damage would be $15 to $20 million.
Graham said the Housing Authority would look at more affordable housing developments. He said pre-hurricane the demand for affordable housing was for 5,000 units. Now, he said the demand is for 6,000 units. There are 43,000 occupied households in the territory, he said, and 22,000 of those households are families living in rental units.
Graham outlined an effort in a federal program in which home owners could get as much as $25,000 to help bring their residences back to livable conditions. He estimated that about 15,000 homes in the territory might qualify for that program.
Daryl Griffith, acting executive director of the V.I. Housing Finance Authority said the territory needs to go a step further for renters.
The Housing Authority has budgeted 2,500 vouchers to give housing assistance to residents under Section 8. Presently there are 1,000 households on St. Thomas and 600 on St. Croix using vouchers. There are 2,000 families on the waiting list for vouchers. Graham said that waiting list had increased 20 percent since the hurricanes. While the number of applicants has increased since the storms, the number of apartments has decreased. The Housing Authority recently asked landlords with available units to contact the housing authority.
"Fortunately, 40 landlords have responded and added 55 rental units for leasing," he told the senators.
Millin Young asked whether some possible rental units were being held up because they had deficiencies, according to the federal regulations. She added, "deficiencies that would not seem to be deficiencies to most of us."
Graham said the Housing Authority was trying to not be too rigid concerning the enforcement of those regulations. However, he added that there were certain deficiencies that could not be overlooked and the authority had run into trouble with the federal government when it overlooked them before.
VIHFA Director Griffith said that because of the severity of the storms, a moratorium on mortgage payments is in effect from Sept. 6 to Dec. 31.
"VIHFA offered mortgage customers four months' moratorium on mortgage payments and property foreclosures to all of its borrowers impacted by the hurricanes. Regular payments are expected to resume on Jan. 1, 2018. Residents are still responsible for paying accrued interest at the end of the loan term," said Griffith. "HUD also offered rent abatements for multi-family Housing Communities."