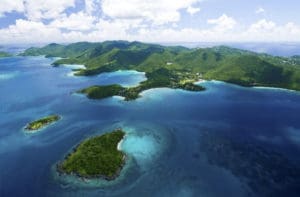 The U.S. Environmental Protection Agency awarded the U.S. Virgin Islands Department of Planning and Natural Resources $100,000 to support communities of the territory that depend on clean water resources.
"EPA has been working hand in hand with U.S. Virgin Islands officials to respond to the tremendous challenges of recovering from Hurricanes Irma and Maria," EPA Regional Administrator Pete Lopez said Tuesday in a news release announcing the award. "This grant provides urgently needed help for the U.S. Virgin Islands to plan for, and be in a better position to withstand, future storm events."
According to the release, the funds will support the government of the V.I.s' water quality planning programs while increasing public awareness of, and engagement with, the need for water quality protection and improvement.
The funds will be used to assess water quality, identify and protect sensitive, impaired or threatened water bodies and will help ensure better storm water management practices in the future.
The federal funds are an additional allotment to an existing grant of $100,000 awarded to the U.S. Virgin Islands DPNR in 2015. EPA also awarded $100,000 in 2016 and this year's additional $100,000 brings the EPA funding total under this grant to $300,000.
Water bodies serve as drinking water supplies, provide flood control to protect life and property, and support recreation, tourism and agriculture, the EPA release said. These water bodies also provide habitat for aquatic plant and animal life. When rivers, lakes, and oceans become polluted, it endangers wildlife and make our drinking water unsafe.
More information about EPA grants are online at https://www.epa.gov/grants.