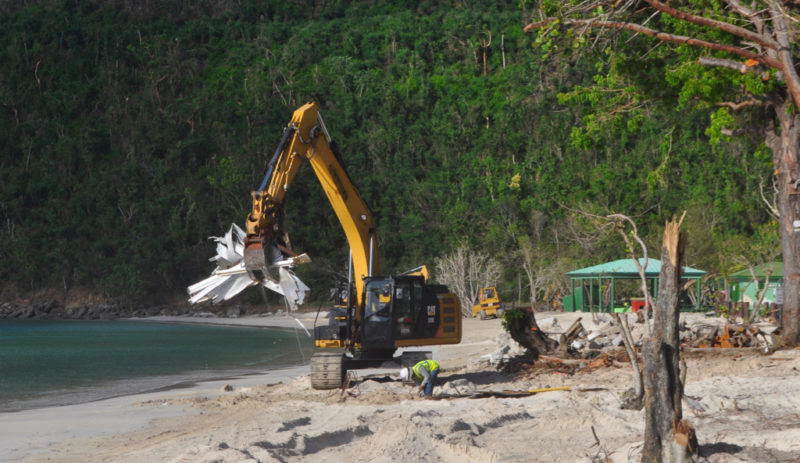 Magens Bay officially reopened with a ceremony and dedication Thursday, and Royal Caribbean Cruises marked 47 years of partnership with St. Thomas.
During the one-two punch of Hurricanes Irma and Maria in September, surging waters carved a steep shelf across the length of Magens' once gentle slope. Lines of sea grapes along the shoreline were uprooted. Debris from toppled trees and the shattered concessions building, benches and bathroom were scattered across the beach and into the shallows of the bay.
Gov. Kenneth Mapp said the destruction is an opportunity to improve the territory's amenities.
"Hurricanes are about devastation, but when you turn that quarter over, hurricanes are (also) about opportunities," Mapp said, according to Government House.
"Here is our opportunity to turn a page and create a more vibrant product, a more vibrant experience for our guests that there's no question that the Virgin Islands … can be the number-one visitor destination in the entire Caribbean," Mapp added.
Royal Caribbean partnered with the Magens Bay Authority, the autonomous instrumentality of the V.I. government that manages Magens; various V.I. government agencies and local contractors, to restore the beach to destination status.
The unveiling of Magens Bay was a demonstration of true public-private partnership, Mapp said.
"I want to commend all of the people of the Virgin Islands for your resilience and your strength … (and) thank you, Royal Caribbean, for betting on us, for investing with us, for helping us when we needed help, and for being a very strong partner to the people of the Virgin Islands," he said.
Royal Caribbean Cruises Chairman and CEO Richard Fain said he was impressed with the organization, determination and passion of the people of the U.S. Virgin Islands to recover as quickly as possible.
Fain said tens of thousands of cruise passengers have visited St. Thomas since the storms and Royal Caribbean's visitor satisfaction ratings were now higher than before Hurricanes Irma and Maria came ashore.
Thursday's ceremony was particularly significant, Fain noted, because it was 47 years and one month to the day that Royal Caribbean's first ship made its first voyage, calling on St. Thomas.
"This has been a long and important relationship," Fain said.
The Category 5 hurricanes caused major damage to the beach facilities, including the restrooms and food and beverage concession and gift shop. Winds and storm surge also caused significant beach erosion and impacted trees and plants along the shoreline. Cleanup crews have been working daily since the hurricanes to remove fallen trees and debris, repair buildings, and replant hundreds of native plants and trees. About 530 new trees have been planted, and 470 trees have been pruned.
Managed by the Magens Bay Authority, Magens Bay is the most visited beach on St. Thomas, with approximately 250,000 to 300,000 visitors annually. The beach, which is nearly one mile long, is known for its crystal clear, calm waters, soft sand and gently sloping shoreline. It is also very popular with locals, who frequent the beach for swimming, water sports, exercising, camping and more.