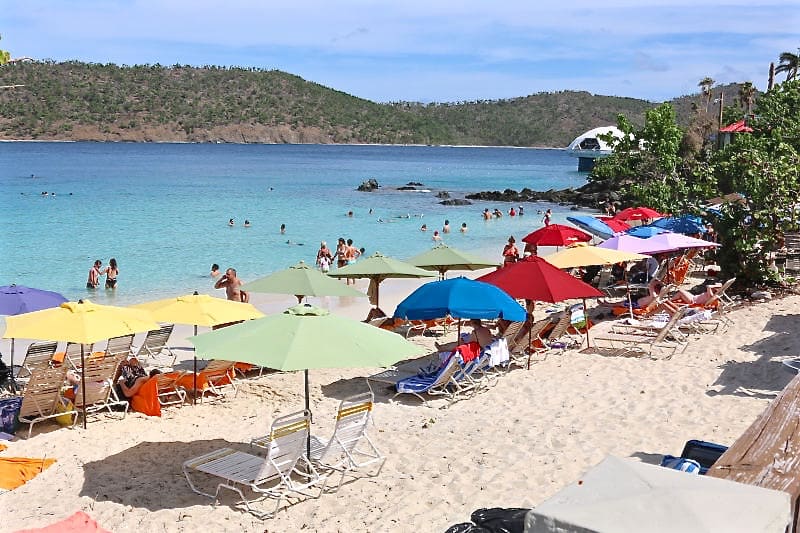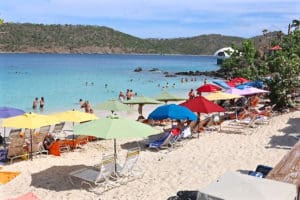 For Magens Bay Authority Executive Director Hubert Brumant, surveying the damage done to the world-famous beach after Hurricanes Irma and Maria passed through the territory in September was heartbreaking.
"It was bad, it was really bad," he said in a recent interview with the Source. "We lost a bathroom, we lost the concession, but what you could see the most was the impact to the vegetation. It's hard for me to say a percentage, but I think we can say we lost about 95 percent of our vegetation. Even now, the beach is cleared, and things are growing back, but it's not like it was before."
For the past two weeks, since cruise ships have come back to St. Thomas, Brumant said a partnership with cruise line Royal Caribbean and help from the authority's staff, local volunteers, National Guardsmen and more have made the popular tourist spot ready for what he described as a "soft opening." The concession has shifted to Shed 4, one bathroom has opened and Royal Caribbean's contractors and crew have helped to expedite the process by doing much of the heavy lifting, clearing trees and other debris in order to simply open up the land.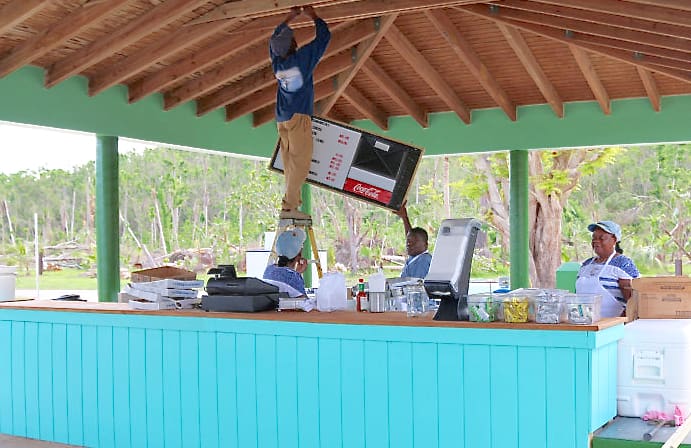 "We are doing what we have to do," he said. "The beach is still beautiful, people are still coming and enjoying it, but for those who have been here before, they can see the difference."
That "difference" is bittersweet for Brumant, who said Magens will be ready for a grand re-opening on Dec. 7.
In this case, "ready" means a fully functioning concession, two bathrooms and restored vegetation. By then, the authority and its partners would have replanted 200 sea grape trees and 100 coconut trees, and finished pruning back those surviving plants that have continued to sprout through weeks of continued rain.
"Listen, things are going to get back, things are going to get better," Brumant said. "Mother Nature is going to do what she does and maybe it won't be the same again, not for years, but it will continue to be beautiful for everyone."
The loss of what once was is a sentiment shared by many across the island, from taxi drivers to tourists who, when asked about whether St. Thomas was ready to receive visitors, said they were happy to be here but saw how much work needed to be done.
"I've been coming here for years," said Dave Smith, who with his wife Sue, was visiting Coki Point Beach late last week. At the time, Coki's shoreline was a familiar sight of colorful umbrellas, snorkelers and bar runners filling drink orders.
But Smith said it wasn't Coki he noticed on this visit, but rather what St. Thomas looked like on the safari trip up from the cruise ship.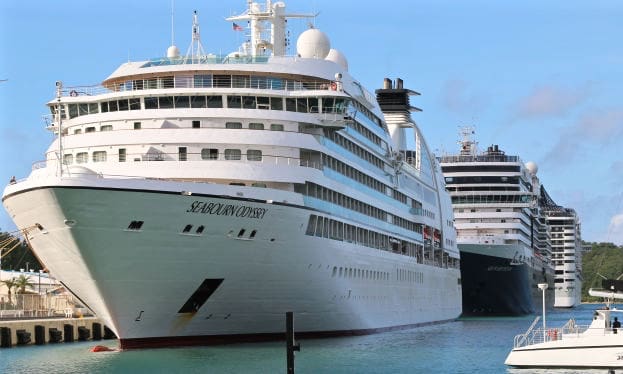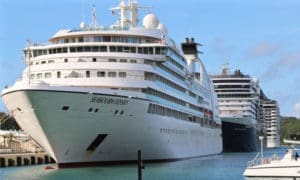 "The beach is in very good shape," he said. "The water is beautiful, the weather is great, and if we were just here, we could say that this is like every other trip. But driving here, it's clear that there is still a lot of damage, a lot of debris piled to the sides of the roads, which, considering all the rain and the two hurricanes are not as bad as they could be, are still difficult to drive on because of the potholes."
Several stands have continued to be open at Coki, but business owners have been similarly disappointed by the loss of one of the restaurant's generators, which was stolen.
"I believe a private citizen did pitch in and loan us a generator," said one employee, who did not want to be named. "But during times like this, when everything is hard and people need to earn money, it hurts that we would even have to be dealing with a problem like someone stealing the generator. It isn't fair."
Worries were not diminished last week with the arrival of three cruise ships to the Havensight Dock, which was filled with taxi drivers busy loading visitors on board for different excursions.
"It's great, this is almost like normal," said Jim Industrious, who said he was only able to work one day – Friday – in order to let other drivers get their share of passengers. "But you have to say 'almost' because while the tourists like it, they like going to the beach and seeing the island, we know that the ships are not coming in the same frequency as they were before. There's one ship one day, a break, one ship another day and today there is three, but we don't know what will happen down the line. And people feel it's still paradise, I know everyone living here feels it is still paradise, but right now, no one is sure when it will be the same again."