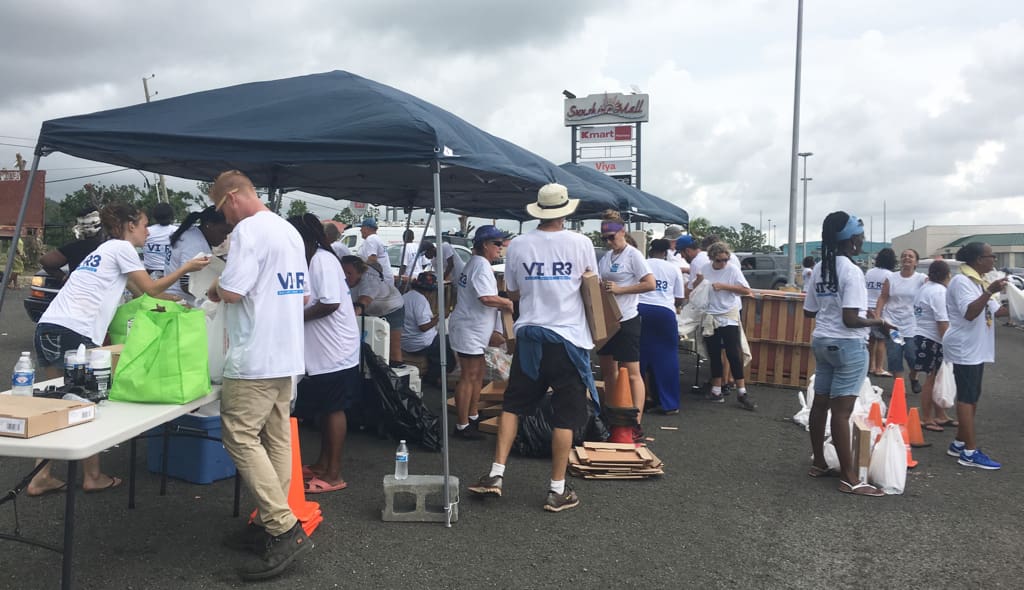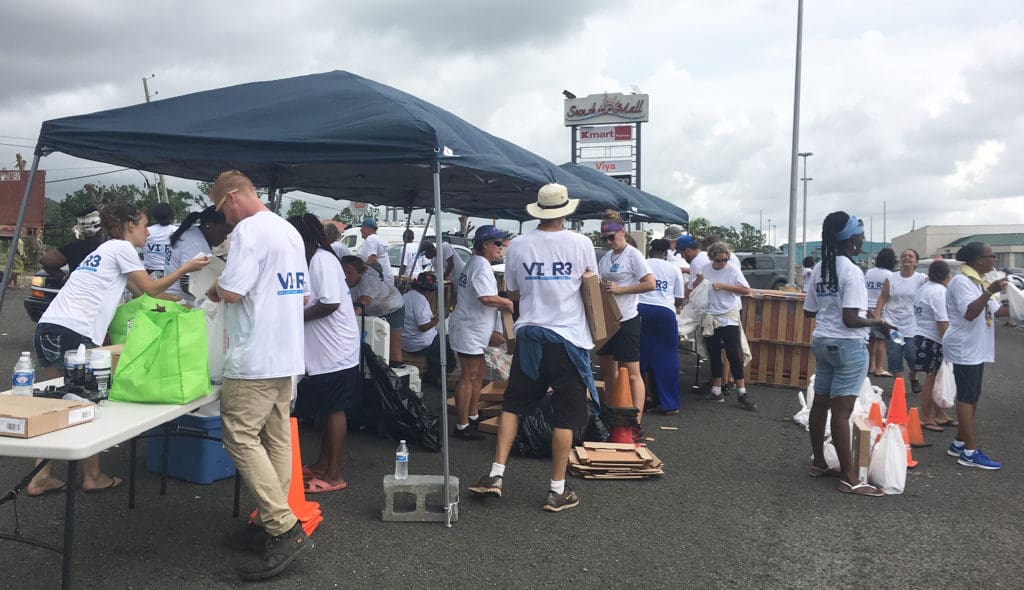 When organizers of Virgin Islands-Relief, Recover, Rebuild, known as VI-R3, arrived at their most recent distribution event, they found residents had been waiting in the Sunshine Mall parking lot since 6 a.m. for the 11 a.m. event.
People continued to arrive throughout the day with the line of cars extending through the parking lot and onto Centerline Rd.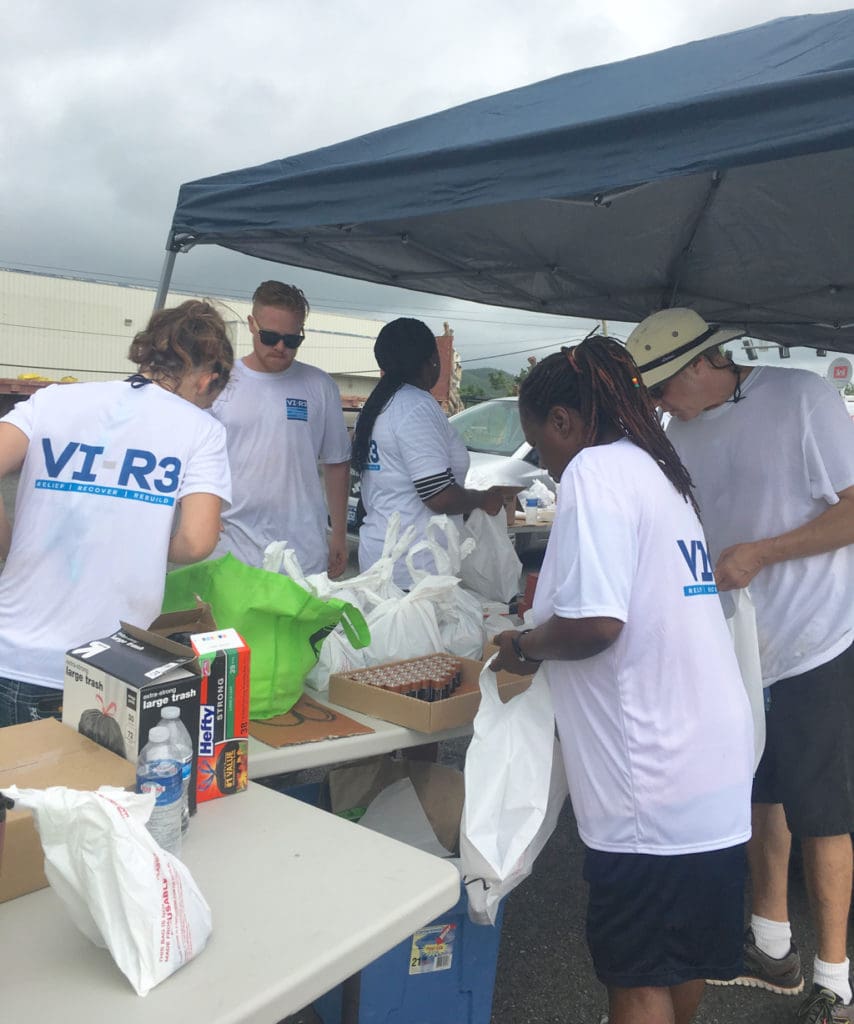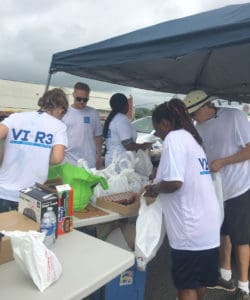 VI-R3 distributed 2,000 cases of water, 130,000 C and D batteries and many hygiene kits between 11 a.m. and 2 p.m. Saturday. Organizers estimate that they served 3,500 to 4,000 residents.
By 1 p.m. they had handed out the majority of their supplies and were down to batteries. Terri Wunschel, VI-R3 operations, credits the 30 diligent volunteers for the success of the event.
"We couldn't have accomplished this without the help of many awesome volunteers, U.S. Virgin Islands Hurricane Relief-VI Strong Packs, Duracell, V.I. Police Department, O'Neale's Transport Incorporated, Sunshine Mall, and especially Plaza Extra East who donated the entire container of bottled water," Wunschel said. "We thank the public for your patience and kind words, we do this for you out of love for our islands and its people."
Cars coming from both directions on Centerline Road lined up and were directed through a pick-up area. The pace was brisk, as groups of volunteers packaged batteries into bags, and others handed them through the window of each car. Although the line moved quickly, at one point the line for residents coming from the east side of the island stretched past the Cruzan Rum Distillery on Centerline Road.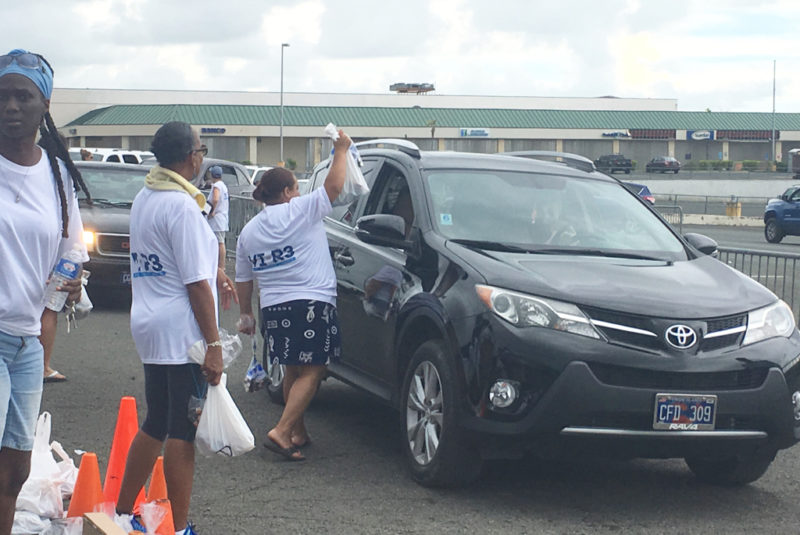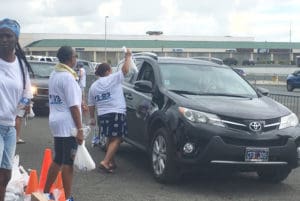 Hurricane Relief for Our Sister Islands, which is now VI-R3, was founded by brother and sister team Sarah and Matt Ridgeway on the night Hurricane Irma hit St. Thomas and St John. The two were born and raised on St. Croix and lived through the recovery efforts after hurricane Hugo.
After hurricane Irma the siblings, along with friends and other local volunteers, worked with the Coast Guard to get permission to transport relief supplies to St. Thomas and St. John. They also provided assistance to evacuees. After Hurricane Maria, the group changed the organization's name to VI-R3, with the intention of forming a permanent group that is able to respond immediately if the Virgin Islands experiences another hurricane or a natural disaster in the future. According to their website, their goal is to continue to provide relief supplies as long as needed, facilitate recovery projects on each island that help to stabilize the community, and identify and support long-term rebuilding projects.
Those interested can learn more, volunteer or donate online at vi-r3.org.